North Korea's leader Kim Jong Un (L) shakes hands with South Korea's President Moon Jae-in (R) at the Military Demarcation Line that divides their countries ahead of their summit at the truce village
South Korean President Moon Jae In and North Korean leader Kim Jong Un have held "serious and honest" discussions about denuclearization, a presidential office spokesman says.
Smiling and holding hands, Kim and Moon met at the heavily fortified demilitarized zone between the countries on Friday in the first summit for the two Koreas in over a decade.
The meeting, aimed at ending their decades-long conflict and easing tensions over the North's nuclear weapons program, comes weeks before Kim is due to meet U.S. President Donald Trump.
South Korean President Moon Jae-in and North Korean leader Kim Jong Un meet in the truce village of Panmunjom inside the DMZ, April 27, 2018.
Moon greeted Kim at the military demarcation line at 9:30 A.M. local time, making Kim the first North Korean leader to set foot in the South since the 1950-53 Korean War.
"I feel like I'm firing a flare at the starting line in the moment of (the two Koreas) writing a new history in North-South relations, peace and prosperity," Kim told Moon as they sat at a table, which had been built so that exactly 2018 millimeters separated them, to begin their closed-door talks.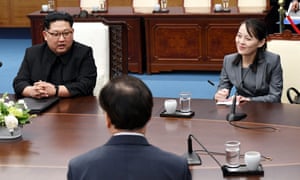 Moon responded that there were high expectations that they produce an agreement that will be a "big gift to the entire Korean nation and every peace loving person in the world."
Kim invited Moon to step briefly across the demarcation line into North Korea, before the two leaders crossed back into South Korea holding hands. The two were handed flowers by a South Korean boy and girl, residents of a village situated in the demilitarized zone.
Beyond the carefully choreographed greeting, however, it's still not clear whether the leaders can make any progress in talks on the nuclear issue, which has bedeviled U.S. and South Korean officials for decades. North Korea's nuclear and missile tests last year likely put it on the threshold of becoming a legitimate nuclear power. North Korea claims it has already risen to that level.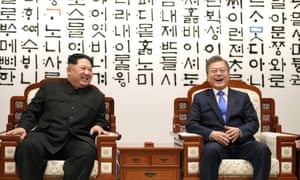 Kim acknowledged the widespread skepticism: "We have reached big agreements before but were unable to fulfill them ... There are skeptical views on whether the meeting today will yield meaningful results," Kim said.
"If we maintain a firm will and proceed forward hand in hand, it will be impossible at least for things to get worse than they are now."
Kim and Trump are expected to meet in late May or June, with Trump saying on Thursday he was considering several possible dates and venues.
Just months ago, Trump and Kim were trading threats and insults as North Korea's rapid advances in pursuit of nuclear-armed missiles capable of hitting the United States raised fears of a fresh conflict on the Korean peninsula.
Earlier Friday North Korea's official KCNA news agency said Kim had left Pyongyang for the "historical" summit in which he would "open-heartedly discuss with Moon Jae-in all the issues arising in improving inter-Korean relations and achieving peace, prosperity and reunification of the Korean peninsula."
Just days before the summit, Kim said North Korea would suspend nuclear and long-range missile tests and dismantle its only known nuclear test site.
Moon traveled to the meeting in a large motorcade, stopping briefly to greet dozens of summit supporters waving South Korean flags near the Blue House.
Hundreds of demonstrators were seen gathering in downtown Seoul from early morning to protest or support the summit.
Skepticism has been rampant about whether Kim is ready to abandon the hard-earned nuclear arsenal his country has defended and developed for decades as what it says is a necessary deterrent against U.S. invasion.
The two neighbors expect to release a joint statement late on Friday - possibly called the Panmunjom Declaration - that could address denuclearization and peace, and an improvement in relations, South Korean officials said.
Disclaimer: The contents of this website are for general information purposes only. They do not constitute our legal or professional advice. Readers are advised not to act on the basis of the information contained herein alone. Every situation depends on its own facts and circumstances. We accept no responsibility for any loss or damage of whatsoever nature which may arise from reliance on any of the information published herein without consulting a professional legal practitioner.