President Biya chairing a previous Ministerial Council meeting
The Head of State President Paul Biya will tomorrow Thursday March 15, 2018 chair the Ministerial Council meeting, four years after the last one took place.
This august meeting in March was announced in a letter addressed to participants who are none other than the PM, Vice PM, Minsters, Ministers of State, Minister Delegates, and Secretaries of States, by the Secretary General at the Presidency Ferdinand NGOH NGOH.
The agenda of the meeting was highlighted as:

The Special Communication of the Head of State

.
The meeting will take place at the Etoudi Unity Palace, and participants are supposed to be at the venue latest 10:40 a.m.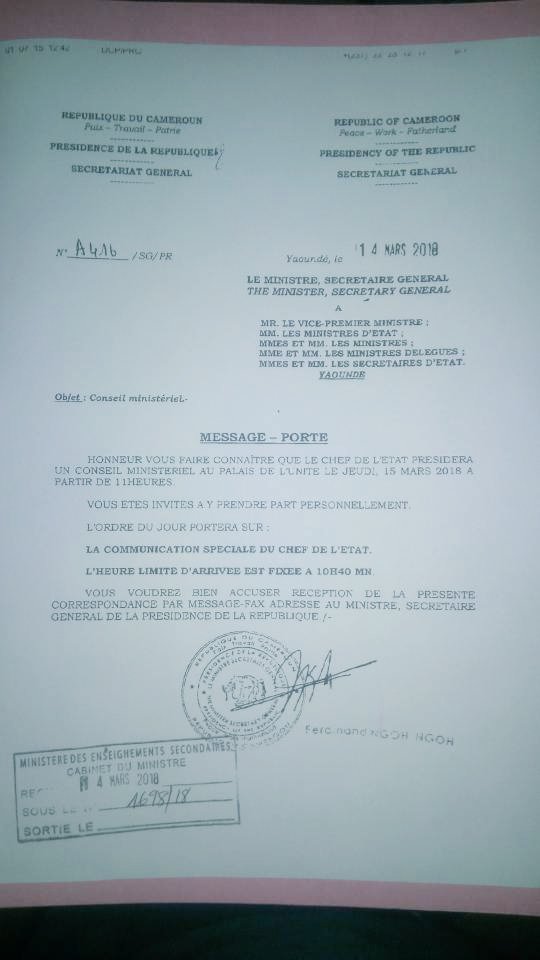 Disclaimer: The contents of this website are for general information purposes only. They do not constitute our legal or professional advice. Readers are advised not to act on the basis of the information contained herein alone. Every situation depends on its own facts and circumstances. We accept no responsibility for any loss or damage of whatsoever nature which may arise from reliance on any of the information published herein without consulting a professional legal practitioner.