Diplomacy and sporting endeavor mixed awkwardly at the spectacular opening of the 2018 Winter Olympics in South Korea, as sworn adversaries sat feet apart while North Korea received a welcome that would have been unthinkable just months ago.
In a ceremony infused with themes of peace and harmony, South Korean President Moon Jae-in twice shook hands with Kim Yo Jong, the sister of North Korean leader Kim Jong Un. US Vice President Mike Pence, sitting a few seats away in the same VIP booth, looked stony faced as the extraordinary scenes unfolded.
The unprecedented encounter between the two senior Koreans fueled hopes that the Olympics could succeed where a generation of world leaders has failed -- to lay the groundwork, however tentatively, to a process of reconciliation on a peninsula that often appears one wrong move away from nuclear conflict.
Minutes into the ceremony, as children skipped through a mythical landscape, Moon greeted Kim Yo Jong and North Korea's 90-year-old ceremonial head of state Kim Yong Nam, the head of the North's Olympic delegation.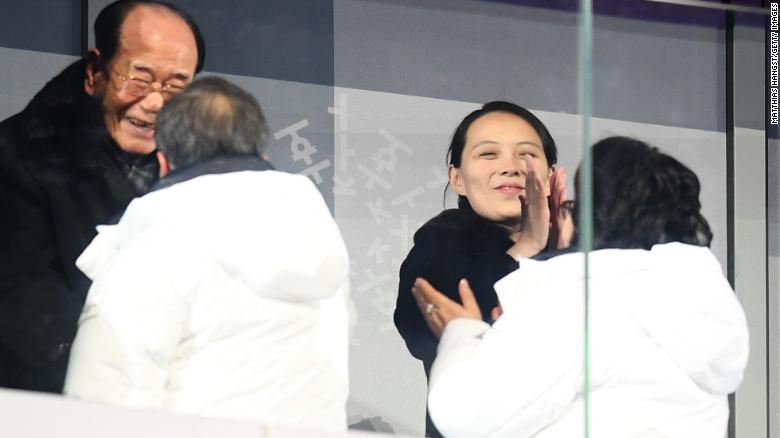 Kim Yo-Jong applauds during the Opening Ceremony of the PyeongChang 2018 Winter Olympic Games.
Kim Yo Jong, the first member of the North's ruling dynasty to visit the south since the end of the Korean War in 1953, smiled broadly as they shook hands.
Then, the two figures from opposite sides of a divided Korea watched as athletes from their respective nations marched together under a unified flag.
A giant dove lit up the sky, famous South Korean singers sang John Lennon's Imagine and, most significantly of all, athletes from North and South Korea walked in together for the first time in 11 years.
The message was not subtle. Drawing on themes of harmony and unity, the ceremony gave Koreans hope -- whether or not it lasts -- that their nations, still technically at war, may one day find peace.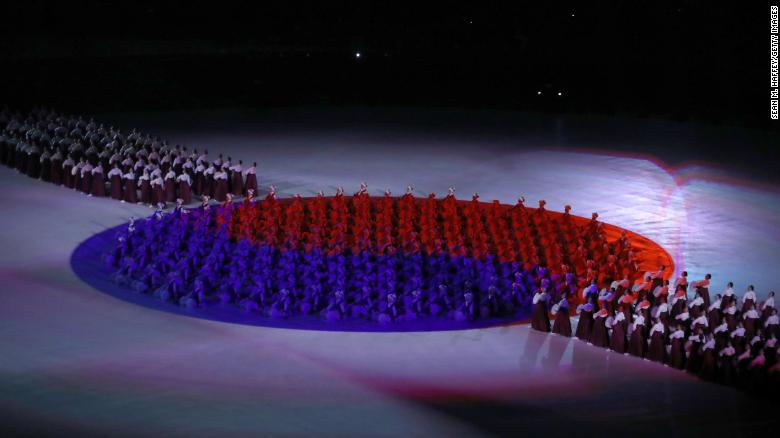 The ceremony involved a starring role for the Games' mascot Soohorang, the white tiger, long been considered a protective guardian in Korean history and culture.
In an elaborate finale, pre-taped for the TV broadcast to ensure nothing went wrong, more than 1,200 choreographed drones formed the Olympic rings in the sky.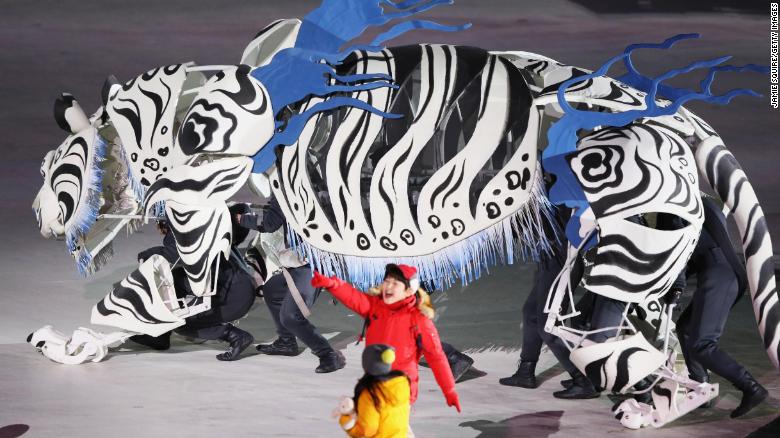 Disclaimer: The contents of this website are for general information purposes only. They do not constitute our legal or professional advice. Readers are advised not to act on the basis of the information contained herein alone. Every situation depends on its own facts and circumstances. We accept no responsibility for any loss or damage of whatsoever nature which may arise from reliance on any of the information published herein without consulting a professional legal practitioner.