The United States of America, through its Department of States Spokeswoman Heather Nauert, has condemned the killings of military and civilians in the North West and South West Regions of the country, offering their condolences to families of victims.
In a Press Statement of yesterday Monday Feb 5, 2018 from Washington, Heather Nauert expressed disappointment in both the Cameroonian and Nigerian government, for forcibly returning Sisiku and 46 others back to Biya's dragnet, even though they had submitted assylum claims, and denying them their human rights.
Read the full stament below:
Heather Nauert
Department Spokesperson
Washington, DC
February 5, 2018
The United States condemns the ongoing violence in Cameroon's Anglophone regions, including the murder of two Cameroonian gendarmes in the North West Region village of Mbingo, a Cameroonian soldier outside of Bamenda on February 1, an electoral official of Elections Cameroon (ELECAM) in Bangem, and the reported deaths of four civilians in Bemenda and Belo on February 2 and 3. We offer our deepest condolences to the families of the victims, and to the people of Cameroon.
We also call on the Government of Cameroon to respect the human rights, including due process, of the 47 Cameroonians forcibly returned from Nigerian custody to the Cameroonian authorities on January 26, and many of whom had reportedly submitted asylum claims in Nigeria. We urge the Governments of Cameroon and Nigeria to adhere to their obligations under international law to refrain from forcible returns to asylum-seekers back to their countries of origin. The 47 Cameroonians are now held in detention in Cameroon allegedly in connection with tension and violence in North West and South West Regions. We expect the government of Cameroon to afford these and other individuals previously detained all the rights and protections enshrined in Cameroon's constitution, consistent with the nation's international obligations and commitments.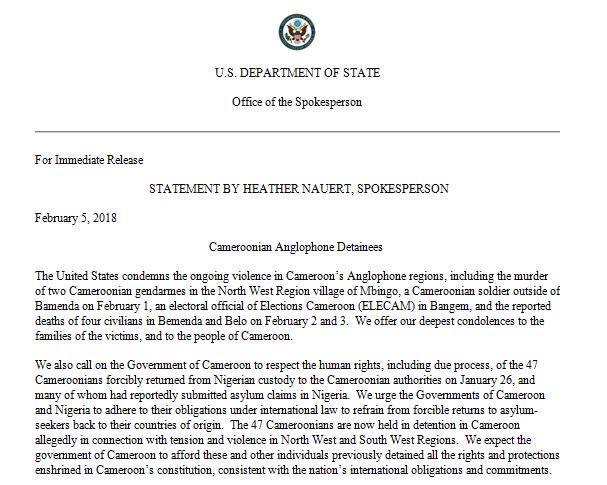 Disclaimer: The contents of this website are for general information purposes only. They do not constitute our legal or professional advice. Readers are advised not to act on the basis of the information contained herein alone. Every situation depends on its own facts and circumstances. We accept no responsibility for any loss or damage of whatsoever nature which may arise from reliance on any of the information published herein without consulting a professional legal practitioner.