The Governor of the South West Region Bernard Okalia Bilai has told the population of the Region in general and residents of the Manyu Division that the Press Release from the Senior Divisional Officer for Manyu, exhorting residents of 16 villages to relocate to neighbouring villages is fake.
Governor Bilai's declarations were made during a press outing hours after the Press Release of SDO OUM II Joseph, hit Social Media, and met with critics.
The release called on residents of several villages in Manyu to relocate to safer neighborhoods. It further read that failure to do so, they will be as accomplices and perpetrators of attacks on security officers in the crisis stricken Anglophone region.
The Governor said the Manyu SDO did not consult him before making such a decision, and says the document is fake. He urged the people of the region to remain calm and continue to collaborate with the forces of law and order.
Below is the Communique from SDO, OUM II Joseph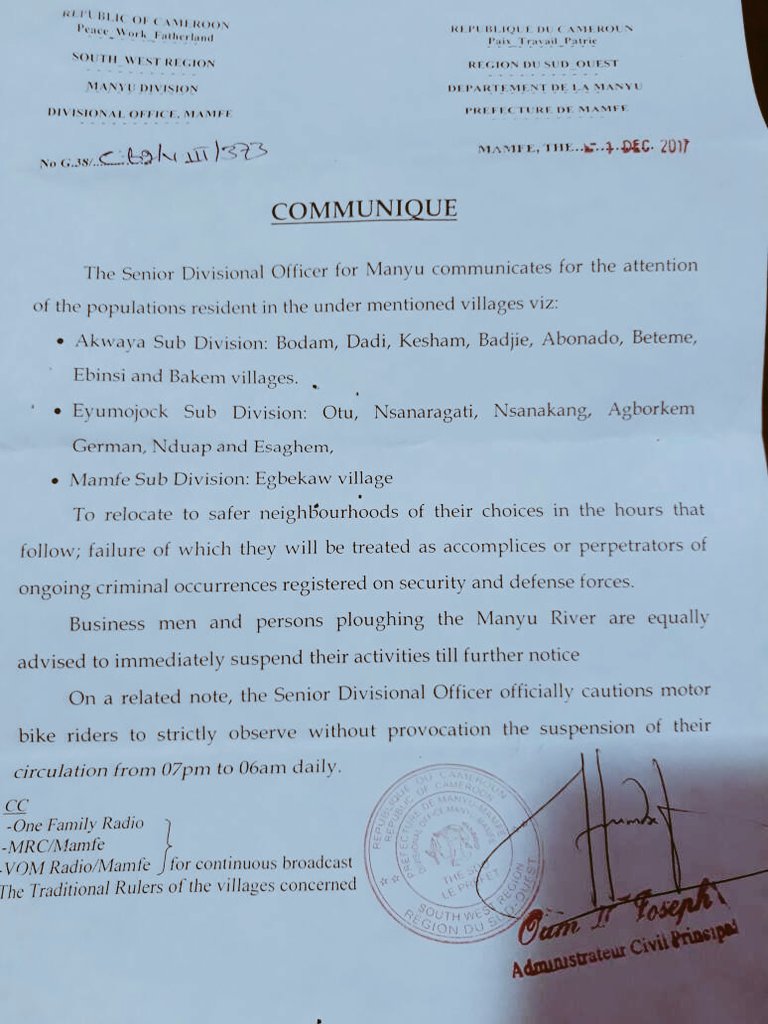 Disclaimer: The contents of this website are for general information purposes only. They do not constitute our legal or professional advice. Readers are advised not to act on the basis of the information contained herein alone. Every situation depends on its own facts and circumstances. We accept no responsibility for any loss or damage of whatsoever nature which may arise from reliance on any of the information published herein without consulting a professional legal practitioner.