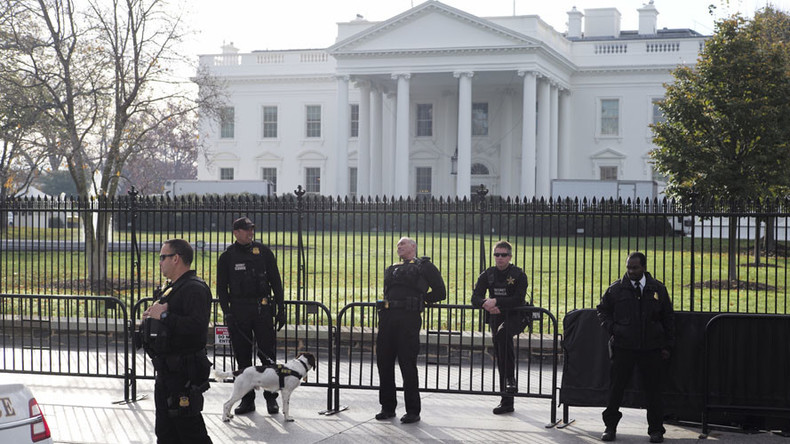 A person has been detained following "suspicious activity" at the north fence of the White House, the Secret Service tweeted. The presidential manor was put on lockdown and the area along Pennsylvania Avenue was closed following the incident.
Reporters were told to leave the north lawn of the White House, CBS News said.
Although the Secret Service declined to immediately elaborate on the incident, Washington DC police spokeswoman Margarita Mikhaylova said authorities are investigating a suspicious package outside the White House, according to the Washington Post.
A suspect called in a threat stating that explosives had been planted along the north fence, WTTG-TV reported citing police.
President Donald Trump is not currently at the residence, as he is en route to Hawaii before heading on his first presidential visit to Asia.
The Friday incident is not the first time the White House has been placed on lockdown since Trump took office.
In a bizarre incident last month, a man dressed as the Pokemon character Pikachu jumped over a concrete barrier on the southern side of the White House. He was promptly arrested by Secret Service officers.
In September, there were two incidents within two days. The first lockdown was due to a man who threw a sign and a notebook over the fence on Pennsylvania Avenue, while the second occurred due to a suspicious package.
A person who jumped a bike rack serving as a barrier on the north fence line was taken into custody in May.
Disclaimer: The contents of this website are for general information purposes only. They do not constitute our legal or professional advice. Readers are advised not to act on the basis of the information contained herein alone. Every situation depends on its own facts and circumstances. We accept no responsibility for any loss or damage of whatsoever nature which may arise from reliance on any of the information published herein without consulting a professional legal practitioner.