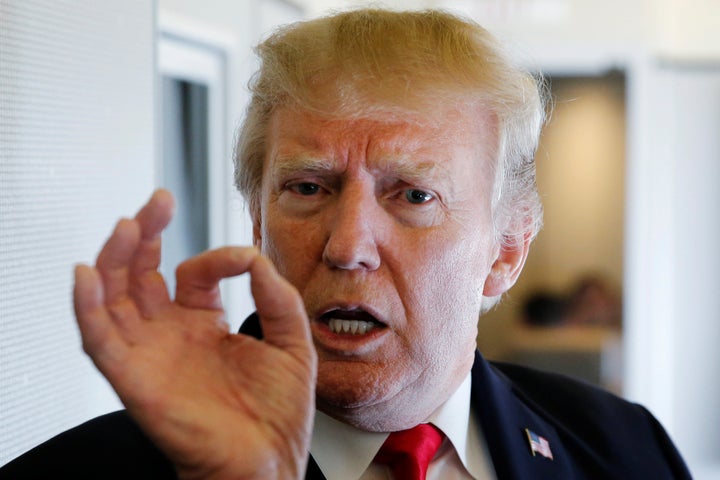 Contradicting U.S. intelligence agencies, President Donald Trump said he believes Russian President Vladimir Putin's claim that the Kremlin did not attempt to interfere in the 2016 election.
Trump spoke with the Russian leader this week in Vietnam during a joint summit with other Asia-Pacific countries. When a reporter asked if the subject of Russian election interference came up, Trump replied, "He said he absolutely did not meddle in our election. He did not do what they are saying he did. ... Every time he sees me, he says, 'I didn't do that,' and I really believe that when he tells me that, he means it. But he says, 'I didn't do that.'"
Trump also took multiple shots at his 2016 rival Hillary Clinton and lamented that Putin is "very insulted" by the accusations of election meddling.
The president's comments fly in the face of a report from U.S. intelligence agencies earlier this year that concluded that Putin had ordered hacking against the Democratic National Committee to help Trump get elected. The hacking is a subject of multiple federal investigations into whether the Trump campaign coordinated with Russia at all, which the president has strongly denied.
Trump has largely refused to blame Putin for the hacking and even told reporters in July that he believes "other countries" besides Russia were involved.
Last month, former Trump campaign manager Paul Manafort, along with his business associate Rick Gates, was indicted by a grand jury in connection with the investigation. At the same time, it was revealed that a former Trump adviser, George Papadopoulos, had pleaded guilty in early October to lying to FBI agents about his efforts to receive "dirt" on Clinton.
Disclaimer: The contents of this website are for general information purposes only. They do not constitute our legal or professional advice. Readers are advised not to act on the basis of the information contained herein alone. Every situation depends on its own facts and circumstances. We accept no responsibility for any loss or damage of whatsoever nature which may arise from reliance on any of the information published herein without consulting a professional legal practitioner.