Southern Cameroonians whose ideologies differ with that of Barrister Agbor Balla are grouping themselves infront of Chatham House - Royal Institute of International Affairs in London, to manifest against Barrister Balla's presentation on the anglophone crisis.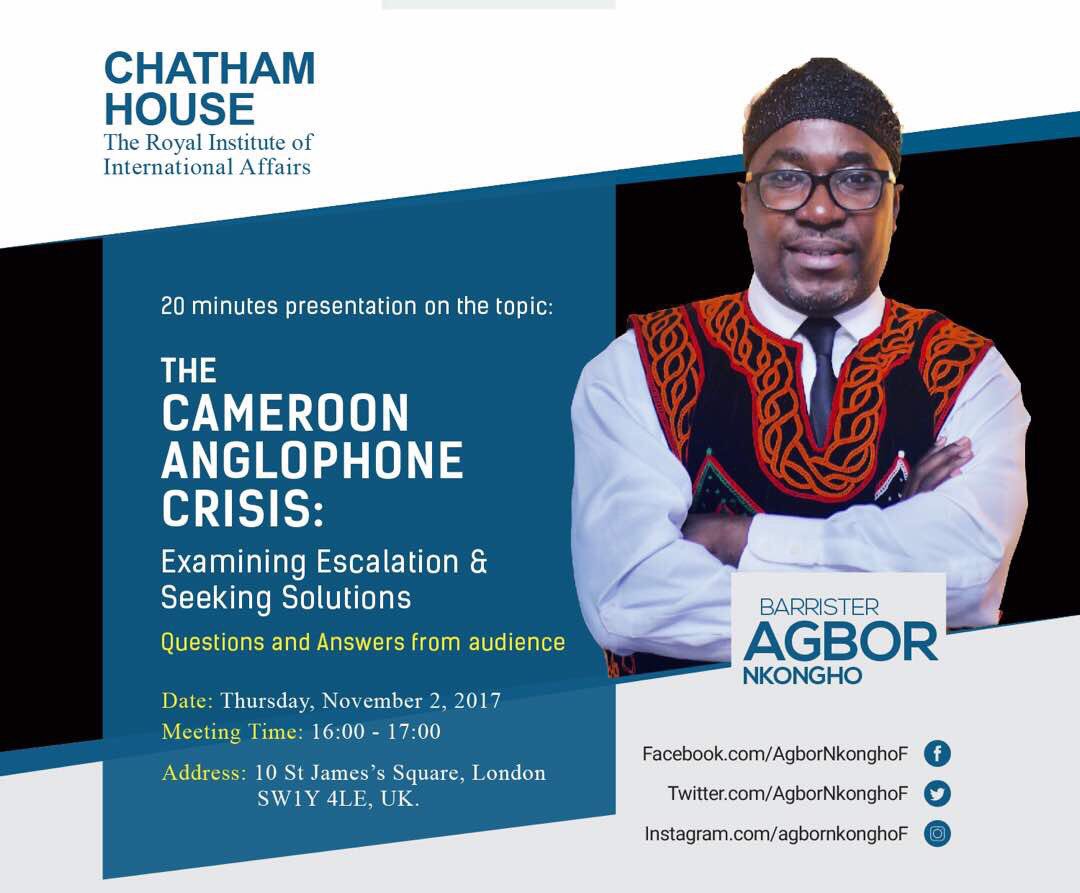 According to them, their presence there is to tell people that Balla is speaking as an individual and a human right activist, and that he is not carrying the message of Southern Cameroonians.
"It is simple. We are there to tell the people that Balla is speaking as a person and a human rights activist. He is not carrying our message. Balla has shown bad Faith. UK of all that stood with him while in detention. He came and was unable to even meet the people." One of them told this reporter.
The manifestants boasted they had BBC with them, to cover their protest.
" There's nothing Balla will say than talking of a united Cameroon as he did last time.
We are not against federation in any way. Balla was for federation that we know. Immediately he came out from detention he is talking of a united Cameroon and holding of elections. He has gone to the level of decentralisation.
He was for federation.
Now balla has been bought to advocate a decentralised government.
" Another one said.
"we don't want to let anyone hijack Southern Cameroonians for their personal and selfish political ambitions. We fell in this trap in the 90s and Fru Ndi is the sole person enjoying with his family. We did same for the GCE board and a few were selected and they forgot about the normal man in the street. This time around the people are smarter. Look at what Akere Muna has done. Taking advantage of the people's struggle to announce himself as a presidential candidate". He concluded.
Disclaimer: The contents of this website are for general information purposes only. They do not constitute our legal or professional advice. Readers are advised not to act on the basis of the information contained herein alone. Every situation depends on its own facts and circumstances. We accept no responsibility for any loss or damage of whatsoever nature which may arise from reliance on any of the information published herein without consulting a professional legal practitioner.