Social website Reddit has banned a controversial subreddit dedicated to "involuntarily celibate" men, known as incels.
The 41,000-strong community was ostensibly a support group for men who wanted to have sex, but found themselves unable to form romantic relationships.
Over time, the group became a repository of misogynistic abuse, rape threats and febrile discussion of "Chads" - men apparently not afflicted by incels' sexual insufficiency.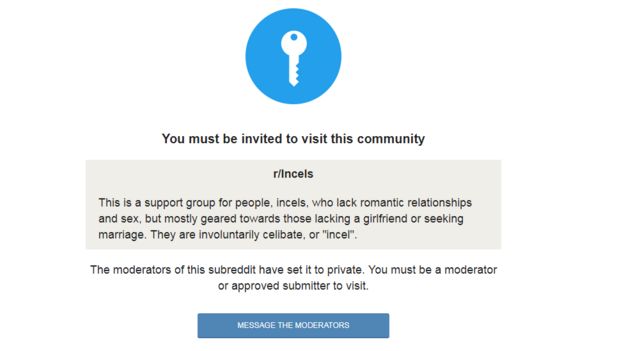 From Tuesday, users attempting to access the subreddit - a self-contained community on the Reddit website - were instead faced with a generic message announcing the ban.
"This community has been banned," the message states.
"This subreddit was banned due to a violation of our content policy, specifically, our site-wide rules regarding violent content."
In the past week, threads featuring on the subreddit have ranged from overtly misogynistic, to violent, to self-pitying.
"A reminder that no female has ever looked at you and thought you were attractive," proclaims one thread, a few lines above another declaring "women are horrible human beings in every aspect of life".
In October, one member of the incel group reportedly impersonated a woman to ask another subreddit dedicated to legal advice "how rapists get caught".
A member of r/incels pretended to be a woman to ask r/legal advice on how to get away with rape. This pit of misogyny needs to be shutdown! pic.twitter.com/b4unbFQNTV

— Fighting For Females (@FemalesFighting) November 8, 2017
Disclaimer: The contents of this website are for general information purposes only. They do not constitute our legal or professional advice. Readers are advised not to act on the basis of the information contained herein alone. Every situation depends on its own facts and circumstances. We accept no responsibility for any loss or damage of whatsoever nature which may arise from reliance on any of the information published herein without consulting a professional legal practitioner.