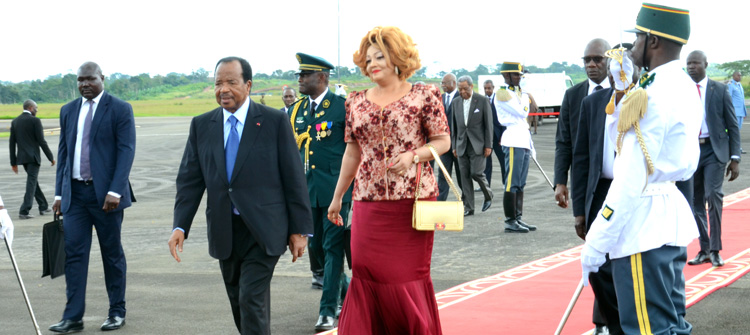 The President of the Republic, His Excellency Paul BIYA and wife – Mrs. Chantal BIYA are back in Yaounde. The Presidential Couple landed at the nation's capital from Ndjamena - Chad on 1 November 2017, where they successfully participated at the ground-breaking and extraordinary summit of Heads of State and Government of the Central African Economic and Monetary Community (CEMAC).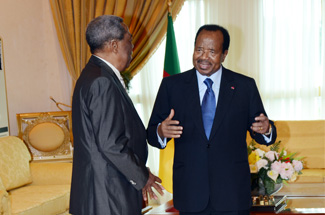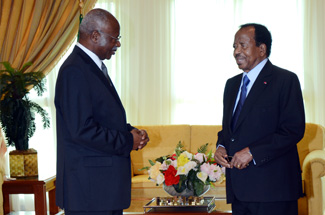 Cameroon's Head of State and First Lady were welcomed at the Nsimalen International Airport by the President of the Senate – Mr. Marcel Niat Njifenji; the First Vice Speaker of the National Assembly – Honourable Hilarion Etong, the Prime Minister and Head of Government – Mr. Philemon Yang, the Secretary General at the Presidency of the Republic – Mr. Ferdinand Ngoh Ngoh, and Chad's Ambassador to Cameroon – H.E. Mahamat Ahmat Karambal.
President Paul BIYA granted four brief audiences at the airport before his departure to the Unity Palace. He discussed with Mr. Marcel Niat Njifenji, Prime Minister Philemon Yang, H.E. Mahamat Ahmat Karambal and Mr. Ferdinand Ngoh Ngoh.

Mrs. Chantal BIYA equally had a joint meeting with the spouses of her husband's close collaborators in a different room.
Like the CEMAC Extraordinary Summit in Yaounde (December 2016), the Ndjamena gathering (October 2017) was a decisive moment in the acceleration and consolidation of sub-regional integration in Central Africa. For example:
President Paul BIYA was recognised by his peers as the principal catalyst of CEMAC's evolution;
the free movement of persons and goods is now effective in all six member States;
new officials have been appointed at the helm of the CEMAC Commission and its specialised agencies;
Douala – Cameroon's economic capital and gateway to the CEMAC zone, has been selected as the sole headquarters of the stock market.
Disclaimer: The contents of this website are for general information purposes only. They do not constitute our legal or professional advice. Readers are advised not to act on the basis of the information contained herein alone. Every situation depends on its own facts and circumstances. We accept no responsibility for any loss or damage of whatsoever nature which may arise from reliance on any of the information published herein without consulting a professional legal practitioner.