The Minister of Defense Joseph Beti Assomo has addressed the condolences of President Paul Biya and the entire nation to families of the three gendarmes recently killed in the North West Region.
In his Press Release of today Nov. 9, the Minister said the fallen soldiers will be given the honour required for soldiers who die in the battle field.
Below is a statement issued by the Minister Delegate in charge of Defense.
"The Minister Delegate at the Presidency in charge of Defence regretfully announces with deep sorrow the barbaric murder of 03 gendarmes, committed in operations to restore and maintain public order in the North West Region, cold-bloodedly assassinated by terrorists with weapons of war. They are:
- Gendarme-major Djonlay Bienvenu, killed on 6th November 2017 in Jakiri, Bui Division, while hunting down with his comrades, hooded terrorists who attempted to set ablaze the Government Technical School of that locality;
- Maréchal-des-Logis-chef Hinma René, killed in the night of 7 breaking 8 November 2017 at 11:30 pm, at a joint check-point in Bafut, Mezam Division;
- Elève-gendarme Sali David, killed by bullet while on duty at the Bayelle Government School, in Bamenda, Capital of the North-West Region.
These Gendarmes lost their lives because of their courage, commitment and loyalty to the fatherland.
The Minister Delegate at the Presidency in charge of Defense extends to families of the deceased who died on duty, the sincere condolences of the Head of State, Commander-in-Chief of the Armed Forces.
The funeral service will take place soon; on this occasion, the deceased Gendarmes will receive military honours due for soldiers fallen on the battlefield. The funeral programme will be made available in due time."
Yaounde, the 9th November 2017
.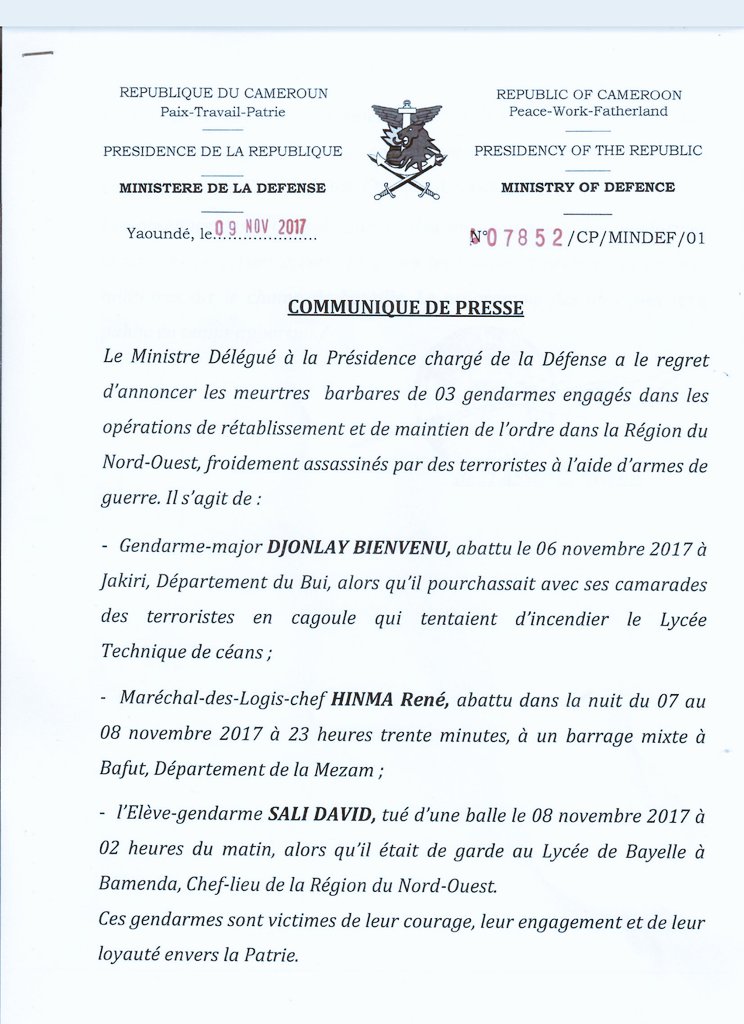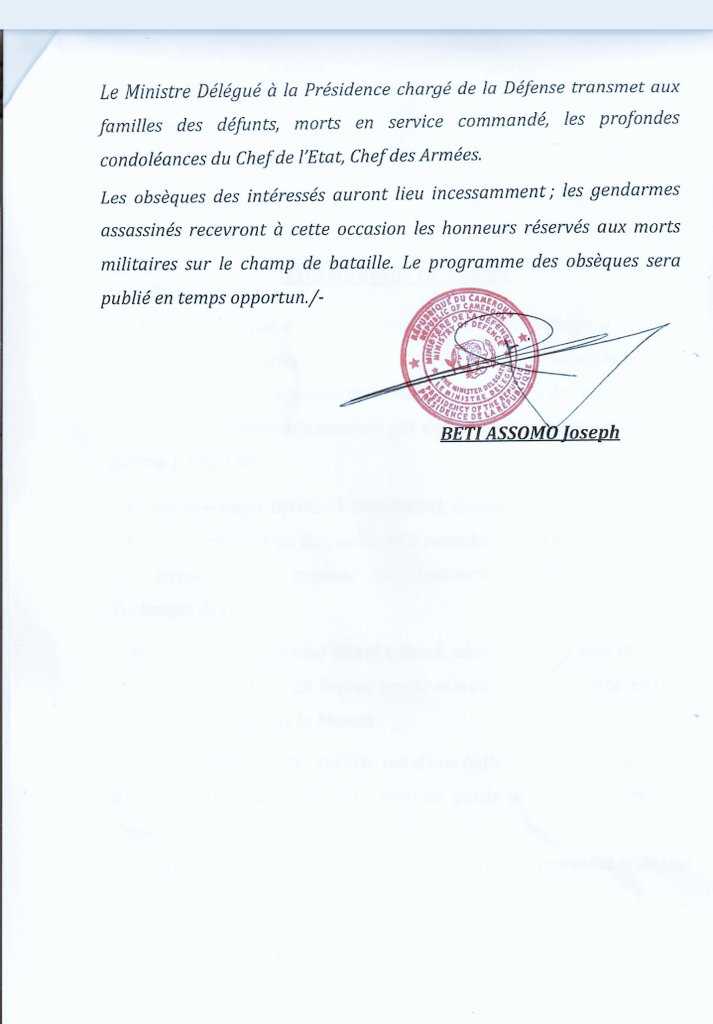 Disclaimer: The contents of this website are for general information purposes only. They do not constitute our legal or professional advice. Readers are advised not to act on the basis of the information contained herein alone. Every situation depends on its own facts and circumstances. We accept no responsibility for any loss or damage of whatsoever nature which may arise from reliance on any of the information published herein without consulting a professional legal practitioner.