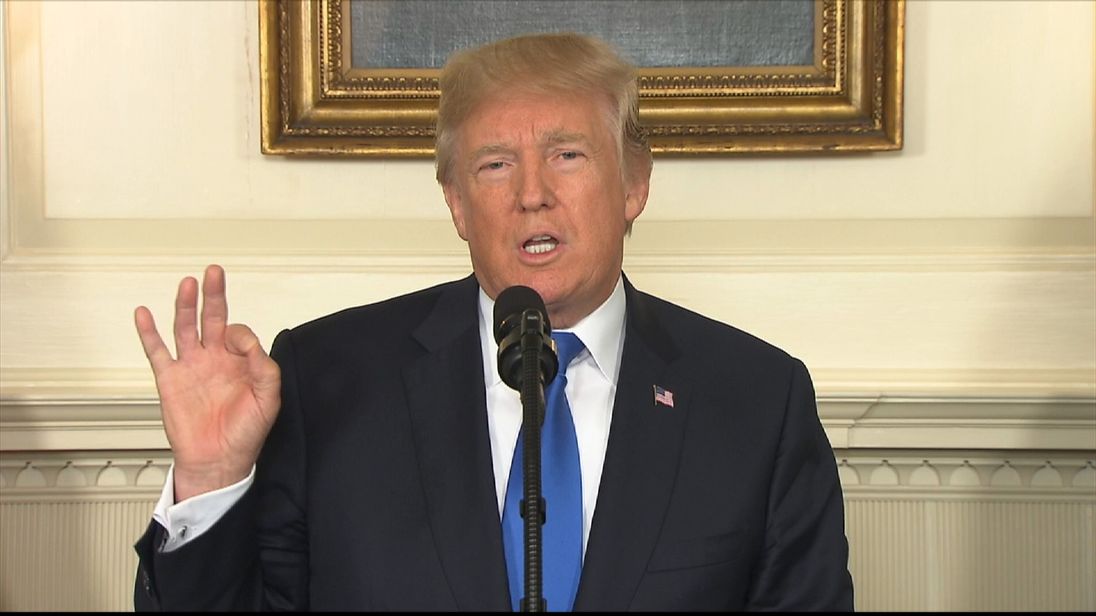 It's official: "Fake News" is very real.
The phrase, defined as "false, often sensational, information disseminated under the guise of news reporting", has been named by Collins as the 2017 word of the year.
Its usage has risen by more than 365% in the last twelve months, after it was enthusiastically adopted by Donald Trump in the wake of the 2016 presidential election.
It succeeds last year's definitive word, "Brexit", which saw an unprecedented increase in use of over 3,400% during last year's fateful referendum.
Other words on the 2017 shortlist included "genderfluid", "fidget spinner" and "gig economy" - the term for a system of casual, unstable employment that firms like Uber and Deliveroo have normalised.
Significant terms from the last 12 months also include "antifa", an abbreviation of ant-fascist; "echo-chamber" to describe opinions being reinforced through social media; and "Corbynmania".
"Much of this year's list is definitely politically charged, but with a new president in the US and a snap election in the UK it is perhaps no surprise that politics continues to electrify the language," Helen Newstead, Collins' head of language content, said.
"'Fake news', either as a statement of fact or as an accusation, has been inescapable this year, contributing to the undermining of society's trust in news reporting."
Although Donald Trump has attempted to claim ownership of Fake News - describing it last month as "one of the greatest of all terms I've come up with" - it's been used to describe content from across the political spectrum.
During the US election it was used to describe false news stories on propaganda-style blogs, which proved more popular on sites like Facebook than accurate coverage.
According to a Buzzfeed analysis the most popular of those stories were pro-Trump - stories about Hillary Clinton selling weapons to ISIS, for example, or Pope Francis giving Mr Trump a presidential endorsement.
It was only later that Donald Trump adopted "Fake News" as a slur against mainstream media outlets, such as CNN and the New York Times, which he claims harbour an unfair bias against him.
In a press conference in January the President refused to answer a question from a CNN journalist with the retort "you are fake news".
He has used the label to dismiss reports on issues ranging from Russian interference in the 2016 election to the effect of extreme weather in Puerto Rico.
And because the term is now being used to discredit any fact or opinion the speaker doesn't agree with, many are worried that it could be having a damaging effect on democracy and our ability to know what is true.
All the new words and definitions will now be added to the Collins dictionary.
Will that help people tell the difference between real and fake news? That may have to be seen to be believed.
Disclaimer: The contents of this website are for general information purposes only. They do not constitute our legal or professional advice. Readers are advised not to act on the basis of the information contained herein alone. Every situation depends on its own facts and circumstances. We accept no responsibility for any loss or damage of whatsoever nature which may arise from reliance on any of the information published herein without consulting a professional legal practitioner.