Archbishop Cornelius ESUA FONTEM
The Archbishop Bishop of Bamenda Cornelius Eusa Fontem has ordered the closure of the St. Martin de Porres Catholic General Hospital Njinikom in the Boyo Division of the North West Region.


According to A Communique from the Archbishop, everything started when the population demanded the removal of Rev. Sister Olive Nga who had sered there for 3 years 7 months from the hospital and the Kom land, which the diocese did, not only for the sister's safety, but for peace to return.
While the sister was leaving the hospital, some bikers escorted the vehicle transporting her out of the Kom land, and even after she has left, they pushed their anger further, by trespassing into the hospital premises, which solicited the intervention of administrators and forces of law & order in the division.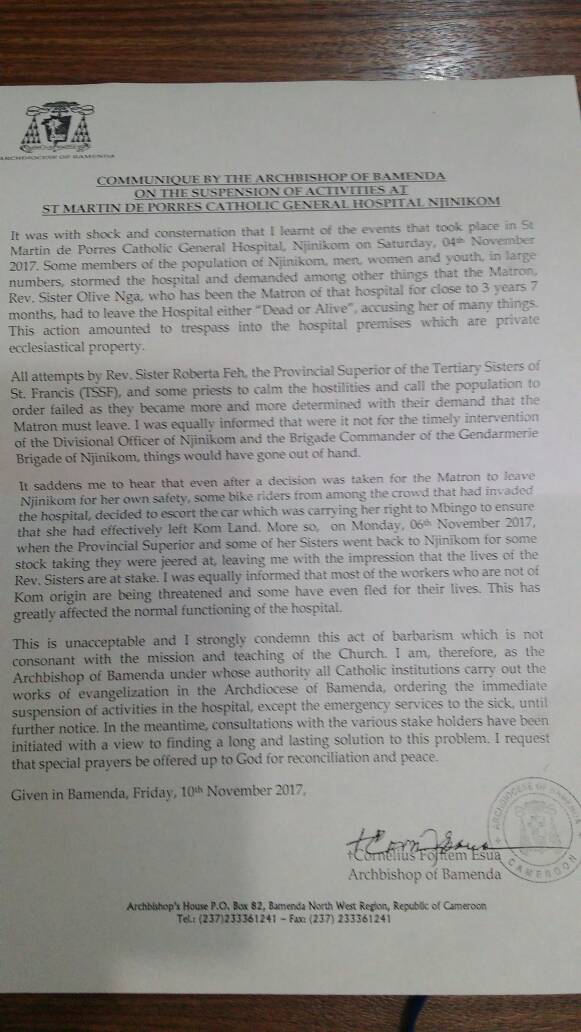 Disclaimer: The contents of this website are for general information purposes only. They do not constitute our legal or professional advice. Readers are advised not to act on the basis of the information contained herein alone. Every situation depends on its own facts and circumstances. We accept no responsibility for any loss or damage of whatsoever nature which may arise from reliance on any of the information published herein without consulting a professional legal practitioner.