Minister

Libom Li Likeng

née Mendomo Minette
The Minister of Post and Telecommunications
Libom Li Likeng
née Mendomo Minette
has refuted rumours circulating on Social Media, that government wants to suspend internet connection in the North West and South West Regions.
In a Press Release signed on Wednesday Sept. 27, Minister Libom condemned the false rumour, and said President Biya has and is still advocating for a Cameroon, where the rule of the law is respected, in accordance with the rules and regulations in place.
Has the Minister suddenly forgotten how the peope of the North West and South West Regions were in digital darkness for more than three months? Where were the rules and regulations at that time?.
Well whatever, we are happy that the government is becoming sensible.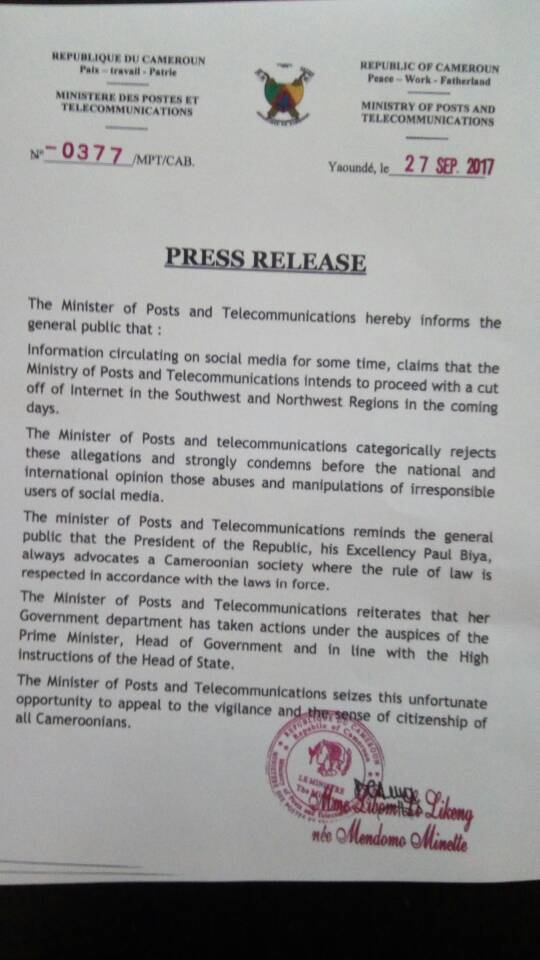 Disclaimer: The contents of this website are for general information purposes only. They do not constitute our legal or professional advice. Readers are advised not to act on the basis of the information contained herein alone. Every situation depends on its own facts and circumstances. We accept no responsibility for any loss or damage of whatsoever nature which may arise from reliance on any of the information published herein without consulting a professional legal practitioner.