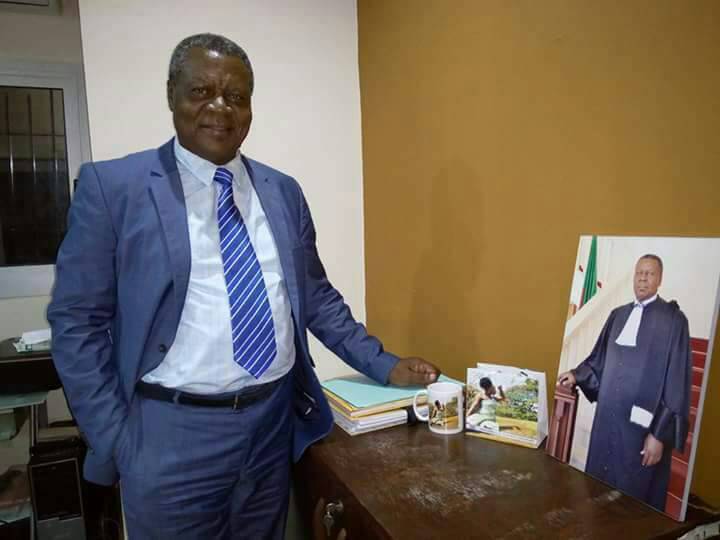 Barrister Dieudonné Happi

The FIFA/CAF delegation on mission to Cameroon, have appointed Barrister Dieudonné Happi as boss of the Normalization Committe of FECAFOOT.
The FIFA/CAF Delegation at the Yaounde Hilton Hotel
This decision was confirmed during a press conference that took place this day Sept. 8, 2017, at the Hilton Hotel in Yaounde.
Barrister Happi whom everyone says is the perfect fit for this position was born on the 26th of November 1951. From childhood, his dream was to become a Lawyer, which he followed as he grew up.
After his secondary education in schools around Buea and Manengouba, he went into a one of the French colleges in the country, where he grabbed his Baccalaureate. He went to the University of Rouen in France, where he obtained his First Degree and Masters in Law. He returned to the country in 1981, where he began living the realities of his dream as a lawyer.
In 1983, he got admitted to be trained as a student lawyer, and in 1985, he finally and official wore the black robe and the white wig, as a full blown lawyer.
Due to the saturated nature of the profession in the chief cities(Douala and Yaounde) of the country, Barrister Happi chosed to go the Far North Region, where he opened his Oaw Firm.
He became famous with his distinctive way of handling his clients portfolio, and became a reference. In 1991 he stood in the Garoua court, to defend the former Security Director of the Tchadian Presidential Security, and the skills with which he used to win that case, added red feathers to his profession till date.
Not wanting to belong to a political party, Barrister Happi was seen coordinating groups of individuals who wanted to vote for Ni John Fru Ndi in the 1992 Presidential election.
He has remained a man of integrity to his profession, and today, was crowned the Ruling King of the FECAFOOT Normalization Committee, to bring order to the Federation till February 2018.
Barister
Dieudonné Happi
was installed alongside Barrister Marcelle Denise Ambono, the Vice President.
Other members of the Committee are;
Maurice Bellet Edimo
Dr.Abdou Oumerou
Veteran Sports Journalist Njomo Kelvin.
Disclaimer: The contents of this website are for general information purposes only. They do not constitute our legal or professional advice. Readers are advised not to act on the basis of the information contained herein alone. Every situation depends on its own facts and circumstances. We accept no responsibility for any loss or damage of whatsoever nature which may arise from reliance on any of the information published herein without consulting a professional legal practitioner.