Rev. Fr, Léon Magloire FOE, the Priest, the husband, the papa, the in-law, and a representative of the Roman Catholic Church
The Bishop of Obala
Mgr Sosthène Léopold Bayemi
has suspended Rev. Fr.
Léon Magloire Foe
for 'violating the oath of celibacy'.
In a decree of July 8th 2017, Mgr Sosthene Leopold Bayemi accuses Rev. Fr. Léon Magloire Foé of being legally married at the Ezezang Mendoum Council to one Ngono Aline Solange, and that the married is cimented with kids.
The alarm was blown, when the Priest and wife Solange had a marital conflict, and apparently decided to divorce, and the court gave custody of the kids to their father the Rev. Father.
It was during the court saga, that Christians woke up in an uproar, and called the attention of the Bishop, who after verification of the facts, decided to suspend Rev. Fr. Foe, for '

Violating the
oath of
celibacy

'.
In the suspension decree, Bishop Sosthene cited the code of Canon Law 1394, paragraph 1, that says: 'a clergy who attempts
marriage
, even if
only
civilly
,
incurs
a
latae
sententiae
suspension
. If he does not
repent
after being warned continues to give scandal, he can be punished gradually by privations of even dismissal from the clerical state
'
, which is what he has applied.
Read the suspension decree below: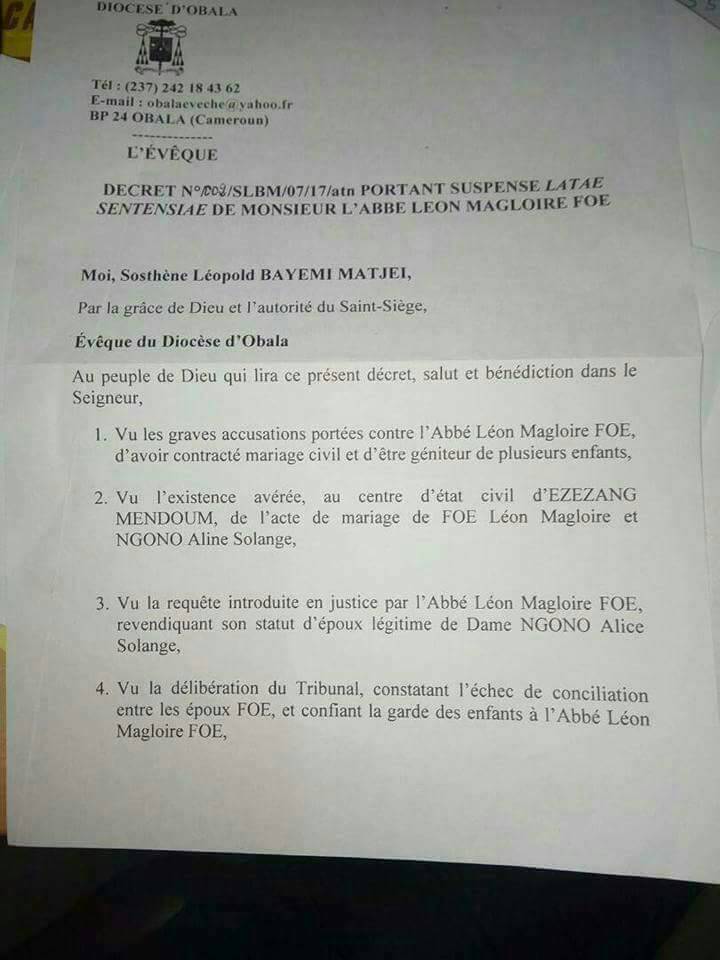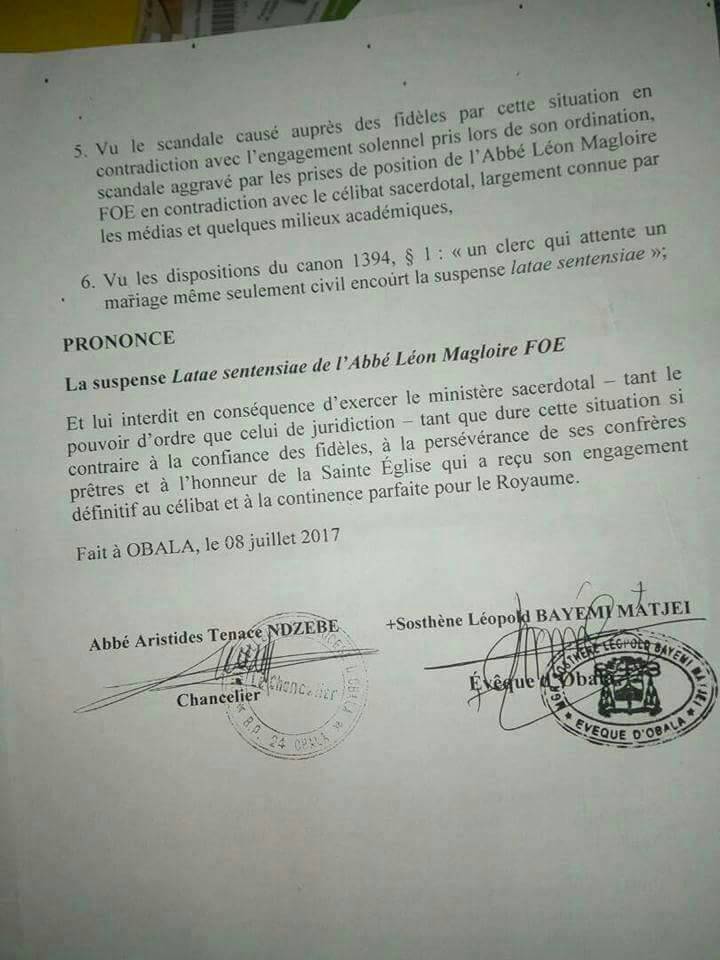 Disclaimer: The contents of this website are for general information purposes only. They do not constitute our legal or professional advice. Readers are advised not to act on the basis of the information contained herein alone. Every situation depends on its own facts and circumstances. We accept no responsibility for any loss or damage of whatsoever nature which may arise from reliance on any of the information published herein without consulting a professional legal practitioner.