A new twist in the story of the much talked about explosives discovered in Mbengwi, that would have been allegedly used to attack administrative and military officials in Cameroon, is making rounds on Social media.
Minister Issa Tchiroma Bakary

in a Press outing

of Wednesday August 9, said a gang of five led by a certain DASI Alfred NGYAM, who headed a network that wanted to bomb the Bamenda Grandstand during the 201
5 20th May celebration was apprehended by the Police.
After their arrest, the Police went further to investigate and discovered weapons and other ammunition at Dasi Alfred's house. Dasi who had a Belgian passport on him at the time of the arrest acknowledged haven acquired the ammunition, and transported them through a neighbouring country into Cameroon.
What Mr. Tchiroma failed to tell the world, was the exact location of Dasi Alfred's house in Mbengwi, because from every indication, no Police raid that led to such discovery ever happened in Mbengwi recently, and the photos shown on TV, had no liaison to Dasi's home.
However, the new twist says Dasi's father is a retired gendarme, and it is likely possible that contrary to the declarations he allegedly made on the ownership of the material(

that is if he even ever made the declarations

), then the materials belongs to his father, who probably acquired them during his days in the military.
According to Canal 2's English correspondent in Mbengwi the home government claimed police raided after the arrest of DASI Alfred and his gang, was the home of a retired gendarme, who is now aged and blind, and who is alleged to be the father of Dasi Alfred.
The retired Gendarme's house raided in Mbengwi
Also, the report holds that "Inhabitants in Mbengwi are categoric that: The weapons exposed on TV was not from their locality, plus they are questioning why the officers of law and order did not invite the press or a neutral body to witness the raid and seizure of the explosives.
However the Governor of the North West Region, Adolphe Lele L'Afrique says the arms caché were found in Mbengwi and is calling for vigilance. Affaire a suivre" Canal 2 English.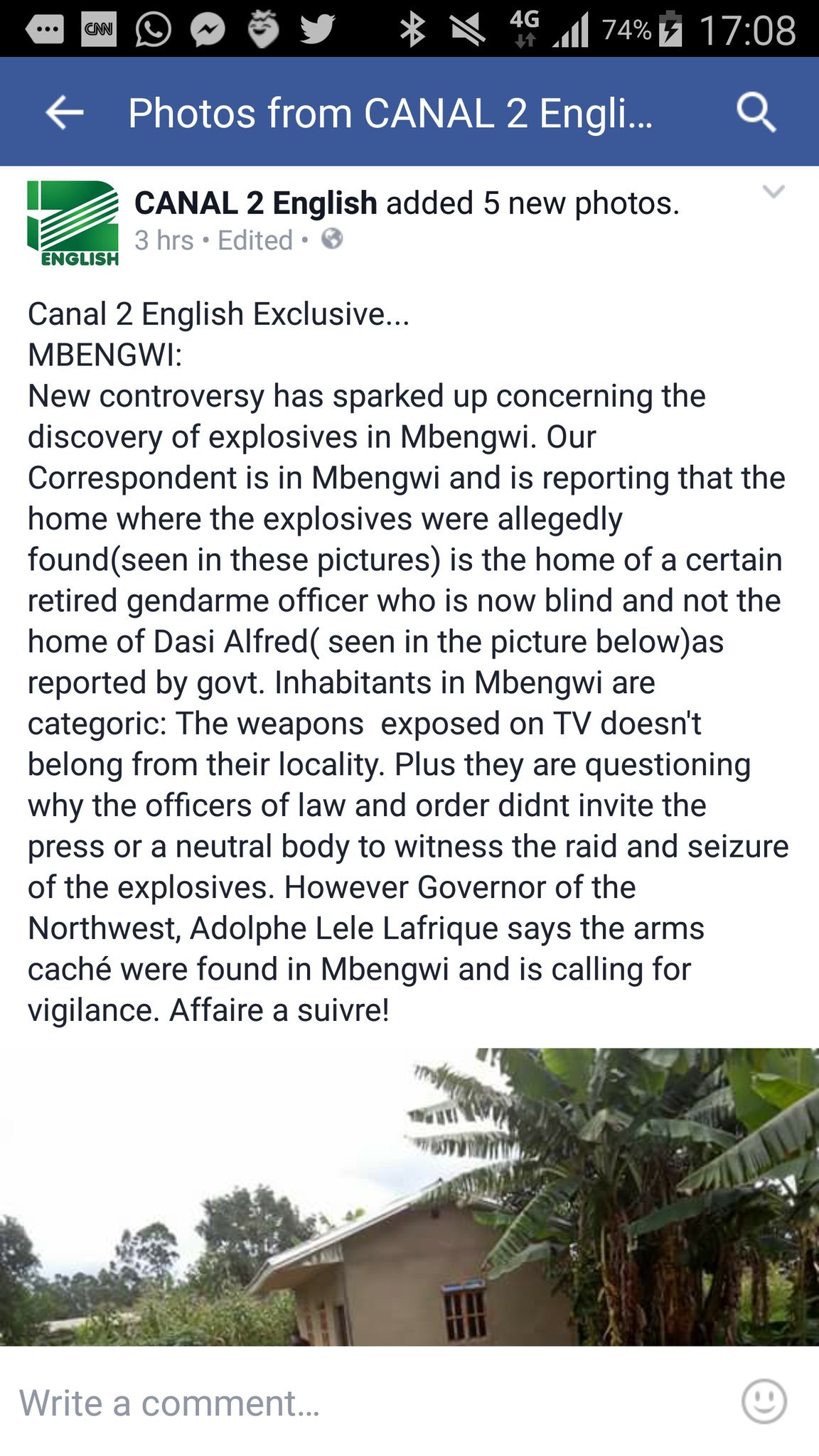 Disclaimer: The contents of this website are for general information purposes only. They do not constitute our legal or professional advice. Readers are advised not to act on the basis of the information contained herein alone. Every situation depends on its own facts and circumstances. We accept no responsibility for any loss or damage of whatsoever nature which may arise from reliance on any of the information published herein without consulting a professional legal practitioner.