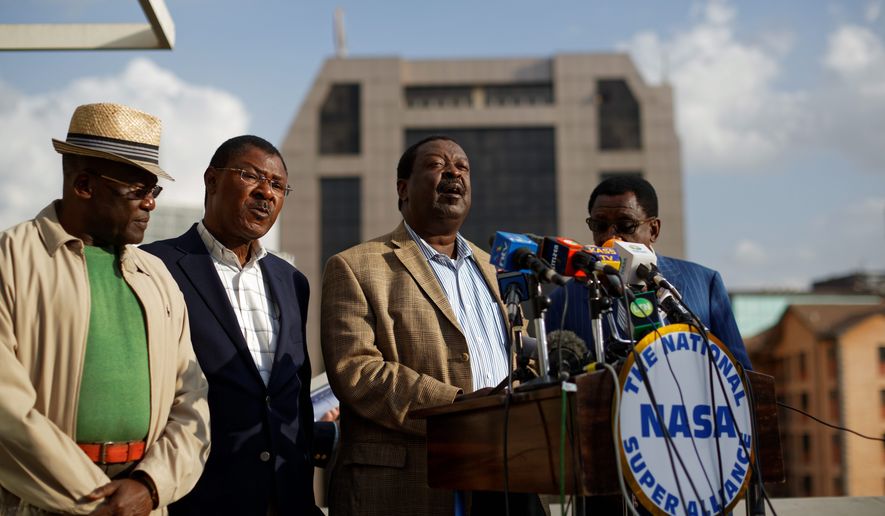 The brutal murder of a key election monitoring official barely a week before Kenyans vote for a president has heightened doubts of the east African nation's ability to hold a peaceful and credible election.
Christopher Msando, who had been in charge of managing information technology systems at the national electoral commission, disappeared on Friday and was tortured before his death, according to Kenya's Independent Electoral and Boundaries Commission. His body was found on Monday, the day the IEBC had scheduled an audit — now canceled — of its systems before the Aug. 8 election.
The murder comes as fears were already soaring that Kenya could face a reprise of the bitter crisis sparked by a disputed presidential election in December 2007, which was followed by up to 1,500 deaths, massive dislocation and rising tribal tensions. Election officials said Monday they have postponed a test run of new voter-ID technology because Mr. Msando was crucial in the process.
Mr. Msando's murder is "a pretty shocking development, even by Kenyan standards," said Mark Bellamy, former U.S. ambassador to Kenya and senior adviser of the Africa Program at the Center for Strategic and International Studies. "This is definitely worrisome."
Because of Mr. Msando's key role in the systems designed to ensure vote-counting accuracy, Mr. Bellamy said, his death is likely to cast doubt on the credibility of the election, thus heightening the risk of post-election violence.
"This election will be a test," said John Campbell, a senior fellow for Africa policy studies at the Council on Foreign Relations. Besides Mr. Msando's death, Mr. Campbell noted, a knife attack on the deputy president's house this weekend raised the question of Kenya's ability to hold an election without violence.


Mr. Campbell noted that, as the largest nation in East Africa, Kenya's political stability has a direct impact on surrounding countries' elections as well.
"If the elections are peaceful, it will strengthen [those countries in Africa] that are seeking peaceful elections," he said.
In the close presidential race between incumbent President Uhuru Kenyatta and National Super Alliance (NASA) candidate Raila Odinga, partisan suspicions are already running high: Past elections in Kenya were fraught with accusations of fraud. Though the 2013 election — also between Mr. Kenyatta and Mr. Odinga — was much more peaceful, many questioned the results, blaming Mr. Odinga's loss in part on a failure of the electronic voting system.
But many of the safeguards implemented in 2013 are not in place now, Mr. Bellamy said, and critics say the government has not been transparent in the measures it has taken to ensure fairness at the polls. Many Kenyans already distrust the courts and the election commission, he said.
Mr. Odinga's supported claimed Mr. Msando's death was an attempt to tamper with the election: "That no effort was made to camouflage this killing as an accident shows the determination of the killers to send a chilling message that they will stop at nothing to ensure the outcome they desire," the opposition party said in a press release.
No one has found the motive or the criminals behind Mr. Msando's death, Mr. Campbell said, and both NASA and the current government are capable of tampering with the election.
Both sides have much at stake in this election, said Murithi Mutiga, a senior analyst for the International Crisis Group.
"Kenyatta, a scion of one of the most prominent political families in the country, does not want to make history as the first Kenyan president not to achieve re-election. His rival, Raila Odinga, son of Kenya's first vice president, is probably making his last serious attempt at capturing the presidency," Mr. Mutiga told The Associated Press. "None of them can afford to lose."
The U.S., which has observation teams in Kenya to monitor the election, should encourage the Kenyan government to ensure the election's credibility, and urge the Kenyan security forces to act with restraint, Mr. Bellamy said. The U.S. should also be careful of its response to the election, which may not be decided until weeks afterward, he said.
"Kenyans will look to the United States for judgment on whether this is a free and fair election," Mr. Bellamy said. "How we react to this in the immediate aftermath is going to be incredibly important."
Disclaimer: The contents of this website are for general information purposes only. They do not constitute our legal or professional advice. Readers are advised not to act on the basis of the information contained herein alone. Every situation depends on its own facts and circumstances. We accept no responsibility for any loss or damage of whatsoever nature which may arise from reliance on any of the information published herein without consulting a professional legal practitioner.