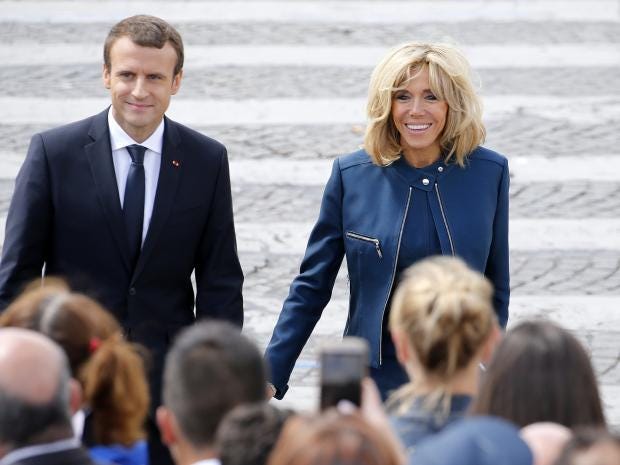 After months at the Elysée Palace she reveals she 'doesn't feel like a First Lady'
Brigitte Macron has opened up about her relationship with the French President as she revealed that after months living in the Elysée Palace, she "doesn't feel like a First Lady".
The 64-year-old came under the spotlight when the details of her romance with Emmanuel Macron, France's youngest leader since Napoleon, emerged during the presidential campaign.
In her first interview since the election, she speaks about her love story with the 39-year-old which started more than 20 years ago, explaining that "Emmanuel's only fault is to be younger than me".
His election in May did little to appease the polemic surrounding her and the debate about her status as France's "first lady" has made waves in recent weeks.
Speaking to Elle magazine, Ms Macron spoke out for the first time about her role as the President's wife.
Committed to taking on a public role, she admitted remaining uneasy about being called "First Lady".
"I don't feel like a First Lady," she said. "That's the translation of an American expression and I don't like anything about it. When I hear the term, I always feel like looking behind me and asking 'who are we talking about?'".
"It is important that everything is made very clear: like those before me, I will take on my public role but the French will know the resources at my disposal," she added.
The past few weeks have been difficult for the presidential couple which saw nearly 315,000 people signing a petition opposing Mr Macron's campaign pledge to create an official "first lady" status for his wife.
Although former presidents' partners have often held a public role, there are no official status nor defined position for French presidents' spouses.
As the debate about Ms Macron's status raged, her husband's popularity dropped faster than that of any previous president following a general election.
President Macron was forced to U-turn on his idea of an official status for his wife and the final details regarding her role are expected to be released soon.
"My status will be determined not by a law but by a transparent charter which will explain that I won't be paid and what my resources and aims will be," Ms Macron told Elle.
"It is very clear in my mind that the French people elected Emmanuel and they haven't elected me although they knew, of course, that we were a couple," she added.
Nearly 24 years his elder, Ms Macron's love story with the French President remains a source of fascination to the French.
She met him, then a young and ambitious teenager, when she was his drama teacher and a married mother of three.
Despite Mr Macron's parents' hostility towards his evolving relationship with his teacher, the pair persevered and eventually married in 2007.
Speaking about the start of her relationship with Mr Macron, she said: "Emmanuel's only fault is to be younger than me."
"When I read things about our relationship, I always have the impression that I am reading someone else's story. Yet, our story is so simple.
"If I hadn't made that choice to be with him, I would have been missing out on life."
She described as "
senseless
" the time when she used to meet Mr Macron, then her student, to work on adapting a version of Eduardo De Filippo's
The Art of Comedy.
She confessed it was then she realized their relationship was changing.
Ms Macron said she tried to resist her growing affection for her student and told him to go to Paris to finish his school years.
"There was nothing between us then but gossip was rife. I was only preoccupied about my children then," she said.
She said the story between the couple evolved slowly and that the 20 years between them "is nothing".
"Of course, we have breakfast in the morning, me with my wrinkles and him with his freshness, but that's how it is," she added.
Disclaimer: The contents of this website are for general information purposes only. They do not constitute our legal or professional advice. Readers are advised not to act on the basis of the information contained herein alone. Every situation depends on its own facts and circumstances. We accept no responsibility for any loss or damage of whatsoever nature which may arise from reliance on any of the information published herein without consulting a professional legal practitioner.