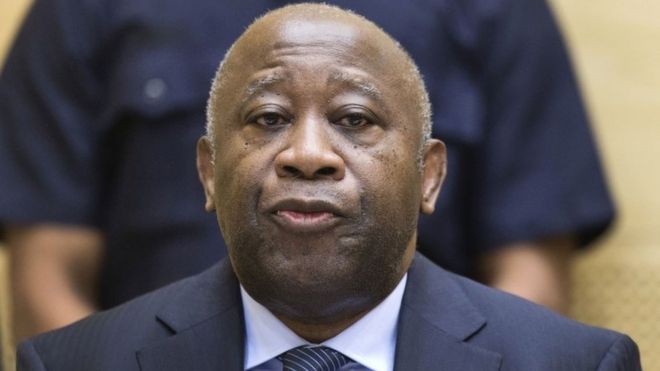 Former Ivorian President Laurent Gbagbo, presently in jail for crimes against humanity following election violence that killed 3000 people in 2010, might be released today, after spending six years in jail.
The International Criminal Court ICC issued an arrest warrant for Gbagbo, charging him with four counts of crimes against humanity – murder, rape and other forms of sexual violence, persecution and "other inhuman acts", allegedly committed between 16 December 2010 and 12 April 2011, although many supporters allege that it is not true.
Gbagbo was arrested in Korhogo, where he had been placed under house arrest, and was placed on a flight to The Hague on 29 November 2011 without knowing where he was being led to. An adviser to Gbagbo described the arrest as "victors' justice"
The ICC's confirmation of charges hearing for Gbagbo was scheduled for 18 June 2012, but was adjourned to 13 August 2012, to give his defense team more time to prepare. The hearing was then postponed indefinitely, citing concerns over Gbagbo's health.
The prosecutor is supposed to hand in a new document containing the charges in mid-January 2014. The PTC decided it will only accept written submissions and then it has 60 days to decide upon whether or not to confirm the charges.
In September 2013, a court in Ghana rejected a request to extradite a senior ally of former Ivory Coast President Laurent Gbagbo, Justin Kone Katinan, saying the warrant issued by Ivorian authorities was politically motivated.
His trial at the International Criminal Court in The Hague began on 28 January 2016, where he denied all charges against him;
crimes against humanity
including murder,
rape
and
persecution
, as did his co-accused
Charles Blé Goudé.
Gbagbo, the first ex-head of state to be tried by the International Criminal Court (
ICC
), has appealed a March decision that he must stay behind bars in a UN detention centre until the end of the legal process.
A five-judge appeals court will "
deliver its judgement
" on the appeal today Wednesday 19th July 2017 at 2:30 p.m, the court said in a statement.
Both Gbagbo, now 72, and his former militia leader Charles Ble Goude, 45, have pleaded not guilty to four charges of crimes against humanity including murder, rape, and persecution in five months of bloodshed that wracked the
Ivory Coast.
Ivory Coast descended into civil war in 2011 after Gbagbo's refusal to accept defeat to Alassane Ouattara in a presidential runoff election.
About 3,000 people were killed in the conflict.
ICC prosecutors accuse him of trying to cling to power "
by all means
", while his defense team has charged that

Ouattara seized power by force with the help of former colonial rulers,
France
.
After a months-long standoff, Gbagbo was arrested by Ouattara's troops aided by
United Nations
and French forces, and turned over to the ICC in 2011.
In March, Gbagbo's defense team made a new bid to win Gbagbo's release, arguing he "
has already been detained for almost six years and has pathologies that affect his physical and psychological wellbeing
".
The prosecution said the former Ivorian leader still enjoyed a strong network of support and if he were freed "could abscond to a territory out of the reach of the court".
In a majority two-to-one decision, the judges ruled he had to stay in jail.
But in a dissenting opinion - which Gbagbo's defence has seized on - judge Cuno Tarfusser said his detention "
has exceeded the threshold of a reasonable duration and that, in light of his age and health, the risk that he might abscond from justice becomes increasingly unlikely
".
Rights activists thought it was unlikely he would be freed. Carrie Comer of the Federation International for
Human Rights
(FIDH) said her organisation shared concerns that Gbagbo "
was a flight risk"
and highlighted
"the sheer gravity of the crimes that he is accused of
".
Disclaimer: The contents of this website are for general information purposes only. They do not constitute our legal or professional advice. Readers are advised not to act on the basis of the information contained herein alone. Every situation depends on its own facts and circumstances. We accept no responsibility for any loss or damage of whatsoever nature which may arise from reliance on any of the information published herein without consulting a professional legal practitioner.