The Catholic church has finally accepted the remains of the late Bishop of Bafia that it was

refusing to collect from the hands of the government

, on account that they cannot bury him until the government revealed the outcome of the investigations relating to death of the Prelate.
A few days ago, things were getting more tensed, especially with the arrival of the Interpole in Yaounde to solidify the post mortem examinations.
The preliminary results of the

investigations made public

in a Press Release of yesterday July 4 2017 by the State Counsel General of the Court of Appeal for the Center Region was shocking and surprising to all, who expected to hear how and who murdered the bishop.
The release rather said 'there were no traces of violence on the deceased' concluding that, 'drowning' was most probably the cause of the Bishop's death, putting the church in a helpless position, and obliging it to accept that the Bishop drowned himself to death, making it vulnerable to accepting the remains.
It should be noted that His Lordship Bishop Jean Marie Benoit Bala was abducted from his resident at Gondon in Bafia on the night of May 31st 2017 around 10:40 p.m.

His lifeless body was discovered

48 hours later at the banks of the River Sanaga in the Ntsang village of Monatele in tyhe Lekie Division of the Center Region.
Vatican sent emissaries to Yaounde to

pressure the government of Paul Biya

to bring light to the dark situation, and against all expectation, the government finally reveals that the Prelate

was not murdered

, but that he rather drowned, giving the church a moral pressure and obligation to accept his remains and bury him accordingly.
Excepts of the Post Mortem report as released by the government.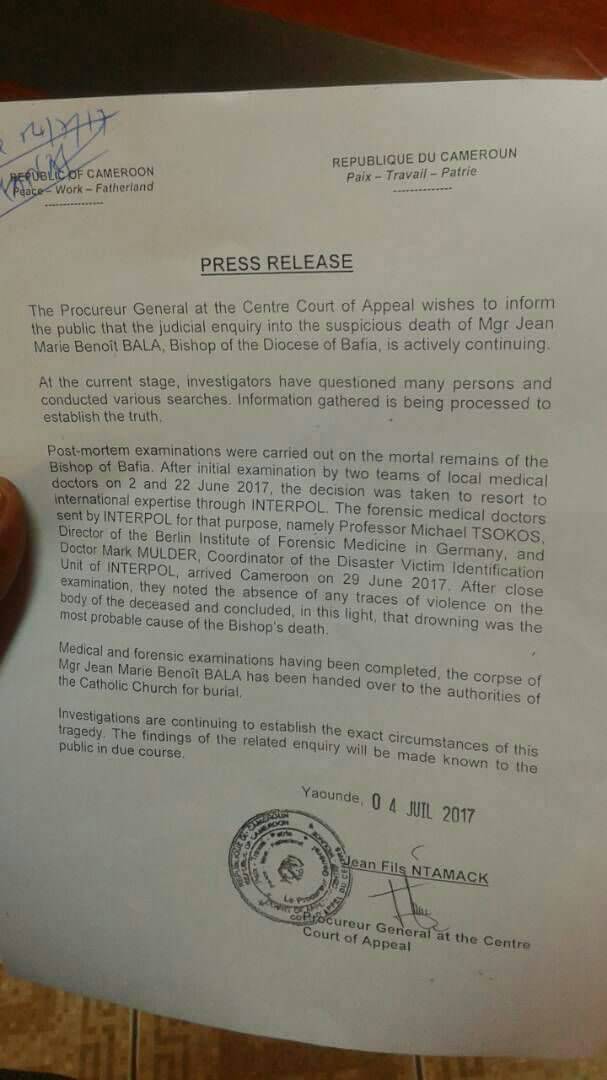 Disclaimer: The contents of this website are for general information purposes only. They do not constitute our legal or professional advice. Readers are advised not to act on the basis of the information contained herein alone. Every situation depends on its own facts and circumstances. We accept no responsibility for any loss or damage of whatsoever nature which may arise from reliance on any of the information published herein without consulting a professional legal practitioner.