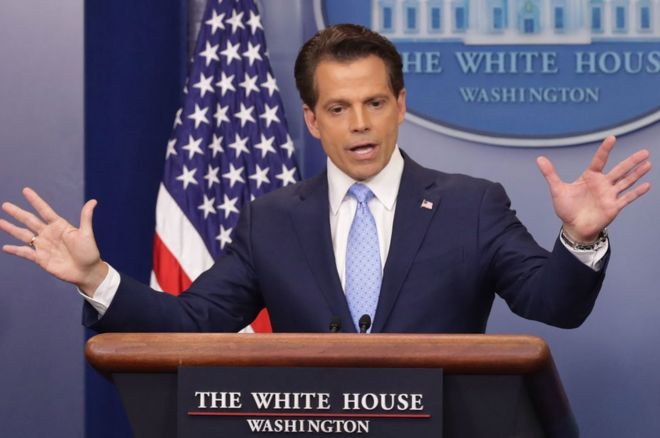 Anthony Scaramucci has been removed as White House communications director, less than two weeks after he was hired by Donald Trump.
During his brief time working for the President, Mr Scaramucci turned the White House upside down. His hiring led to the departures of both Sean Spicer and Reince Priebus, Mr Trump's former press secretary and Chief of Staff, respectively.
John Kelly, who was sworn in as White House Chief of Staff on Monday, reportedly asked the President to remove Mr Scaramucci as communications director, according to The New York Times.
In a statement announcing Mr Scaramucci would be leaving his role, the White House said he "felt it was best to give Chief of Staff John Kelly a clean slate and the ability to build his own team."
According to ABC News, Mr Scaramucci offered his resignation to Mr Kelly with a request to be redeployed at the US's Export-Import Bank as chief strategy officer.
Mr Scaramucci's resignation comes after he told a New Yorker reporter last week that Mr Priebus was a "paranoid schizophrenic, a paranoiac" and accused him of leaking information to journalists. The following day, Mr Trump announced on Twitter that he was replacing Mr Priebus with Mr Kelly.
Mr Scaramucci's tenure as Mr Trump's communications director may have been cursed from the start. When Mr Spicer resigned earlier this month, The New York Times reported that he told the President the appointment of the New York financier was a big mistake.
Mr Scaramucci was selected to replace Mike Dubke, who resigned from the job in May amid fallout from primarily Russia-related scandals.
During the transition, Mr Trump had intended to appoint Mr Scaramucci as director of his office of public liaison, but the offer was pulled at the request of Mr Priebus because of concerns about the financier's overseas investments.
It is likely that the President selected Mr Scaramucci because of his demonstrated loyalty. The financier, who founded the global investment firm SkyBridge Capital and is a Fox News contributor, has on multiple occasions spiritedly defended the President on television. Mr Trump has constantly felt that his communications team was not doing enough to defend him.
During his first and last week on the job, Mr Scaramucci vowed to purge the White House staff of disloyal aides in an effort to crack down on leaks.
"You're either going to stop leaking, or you're going to get fired," Mr Scaramucci said.
Disclaimer: The contents of this website are for general information purposes only. They do not constitute our legal or professional advice. Readers are advised not to act on the basis of the information contained herein alone. Every situation depends on its own facts and circumstances. We accept no responsibility for any loss or damage of whatsoever nature which may arise from reliance on any of the information published herein without consulting a professional legal practitioner.