President Paul Biya has instructed a rigorous re-examination of subsidies granted to administrative public establishments.
In a circular dated Tuesday June 20, 2017,
President Paul Biya instructed Members of Government to take certain actions in drafting the 2018 State budget so as
to regulate State spending in order to ensure economic growth as well as inclusive and sustainable development.
The Head of State noted in the circular that concerning subventions to administrative public establishments, there is need for a judicious re-evaluation of the amount given to each structure, taking into account their real needs and records in the execution of previous budgets.
President Biya also called on Members of Government to draft next year's budget taking into account national and international economic dynamics and taking into consideration the strict respect for budgetary discipline in the management of resources. Such measure, if strictly followed, are expected to positively play a role in curtailing public expenditure.

The Head of State mandated those concerned to carry out the task rigorously and submit the draft budget with modifications at the Presidency of the Republic on or before Friday October 6, 2017.
President Biya specifically tasked the Prime Minister Head of Government, the Minister of Finance as well as the Minister of the Economy, Planning and Regional Development to guarantee the strict implementation of his directives.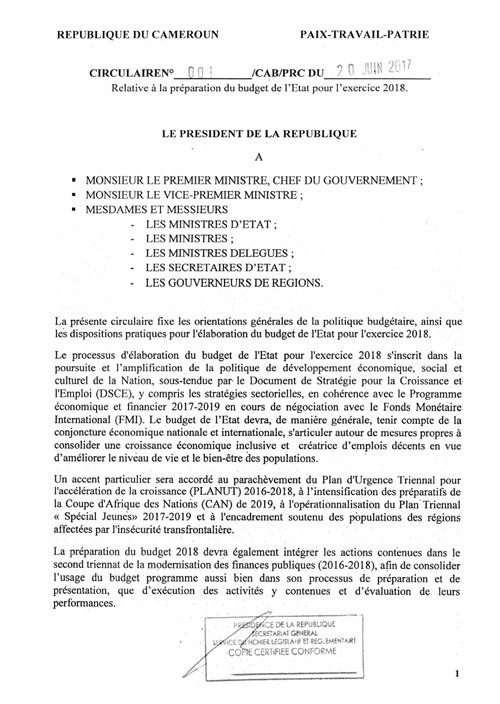 Disclaimer: The contents of this website are for general information purposes only. They do not constitute our legal or professional advice. Readers are advised not to act on the basis of the information contained herein alone. Every situation depends on its own facts and circumstances. We accept no responsibility for any loss or damage of whatsoever nature which may arise from reliance on any of the information published herein without consulting a professional legal practitioner.