President Biya Decrees Two Days Of National Mourning For Soldiers Who Drowned Aboard The BIR Logistics Vessel 'Mundemba' That Was En Route To Bakassi
The Head of State President Paul Biya has signed a Decree, declaring today

Friday July 28

, and tomorrow Saturday July 29, 2017 National Mourning Days, in honour of the memory of the 34 Soldiers who went missing on Sunday July 1
6
2017, at the Debuncha Coast, when their vessel 'Mundemba' succumbed to the strong waves of an unannounced wild storm, and sank into the depths of the waters.
According to the decree, all flags in and around the national territory

MUST

fly at half mast.
'Mundemba' was sailing to Bakassi to supply logistics to soldiers on the disputed Bakassi area, and had on-board 37 civilians and elements of the Rapid Intervention Battalion, some military trucks and other provisions. 34 out of the 37 on board disappeared into the belly of the Debuncha coastal sea, while

three

survived the storm.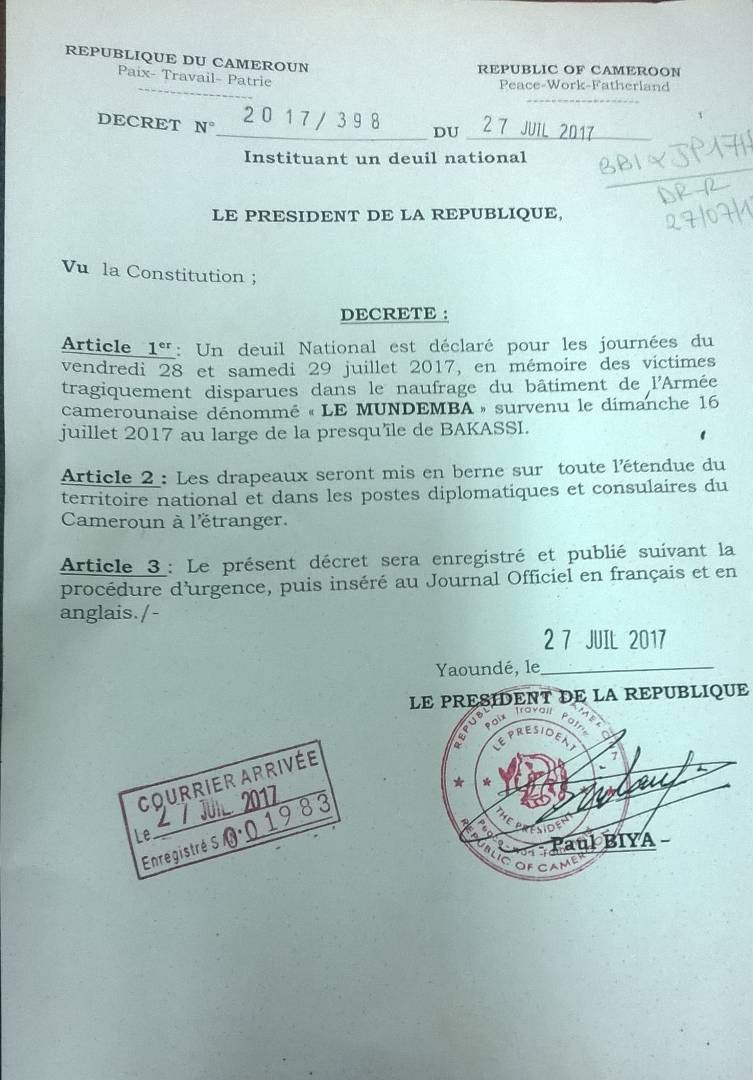 Disclaimer: The contents of this website are for general information purposes only. They do not constitute our legal or professional advice. Readers are advised not to act on the basis of the information contained herein alone. Every situation depends on its own facts and circumstances. We accept no responsibility for any loss or damage of whatsoever nature which may arise from reliance on any of the information published herein without consulting a professional legal practitioner.