Cameroonian Black turned white bleached queen Irene Major
Skin bleaching has become a nightmare for most Cameroonian men, who wake up one morning to discover that their women have either become orange red, or have developed fat green veins, all in a bid and struggle to look more attractive according to them.
It is for this reason that this sensitive issue popped up during last Friday's plenary session at the National Assembly, where the Minister of Public Health Andre Mama Fouda had to answer questions from members of parliament, on what his Ministry is doing to combat this phenomenon.
Responding to the question, Minister Mama Fouda 'acknowledged that government is taking measures to put an end to skin bleaching in Cameroon', but that the means put in place for this fight is insufficient.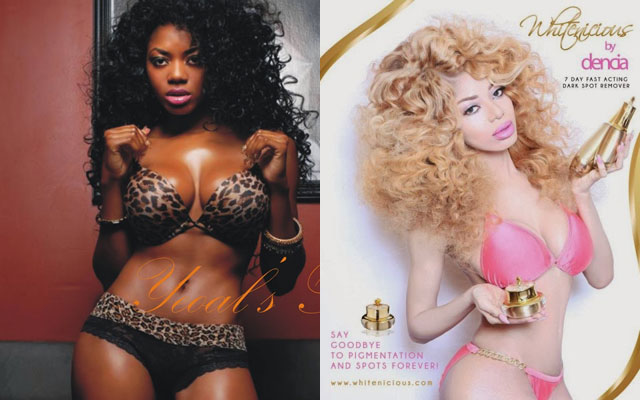 Another black turn white Cameroonian Dencia
Mama Fouda however told the men at the lower house of parliament that government has banned the importation of skin lightening products, and that products needed to treat skin problems, are imported only through approval from his ministry.
Since there are limited means to actually ensure that the products are totally out of the market, Minister Mama Fouda said, for now, he and his ministry can only sensitize the population without making concrete implementation moves.
The consequences of skin bleaching, are far more beyond the 'fair temporal attractive complexion'. The expenses of these products, are not only alarming, but the long term effects include severe skin diseases not excluding the dreaded skin cancer.
The bleaching phenomenon has become a common practice by Cameroonian ladies who thinks that the lighter their skin, the more beautiful you are, or that having a fair skin makes you look wealthy, forgetting that 'Black is beautiful', and that the dark skin is priceless.
Disclaimer: The contents of this website are for general information purposes only. They do not constitute our legal or professional advice. Readers are advised not to act on the basis of the information contained herein alone. Every situation depends on its own facts and circumstances. We accept no responsibility for any loss or damage of whatsoever nature which may arise from reliance on any of the information published herein without consulting a professional legal practitioner.