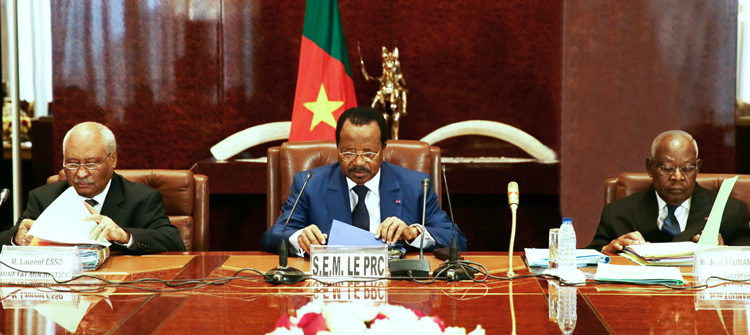 President Paul Biya yesterday, June 07, at the Unity Palace, presided at the ordinary session of the Higher Judicial Council.
It took almost three hours thirty minutes for members of the Council, to clear the about nine-point agenda earmarked for the council's ordinary session.
As early as 10 AM, almost all the members both substantive and alternates had already answered present for the session that officially kicked off at 11 a.m.

Also present were some magistrates whose disciplinary files were programmed for examination accompanied by their defending lawyers.
As explained by the Minister of Justice and Keeper of the Seals and Vice President of the Higher Judicial Council, Laurent Esso, the deliberation was "dense with so many files to treat." Prior to examining the files on the table, new members recently appointed into the council were given the opportunity to take their oath of office.
The session was particularly animated by the examination of seven disciplinary files, absorption into the profession of magistracy of members of the judicial corps who recently graduated from the School of Administration and Magistracy (ENAM), promotions and appointments in the Ministry of Justice as well as in the various courts.



'After examining the disciplinary and other files, the Higher Judicial Council expressed its views which were then transmitted for approval by the President of the Republic', Laurent Esso told reporters after the meeting, stating that it is only when the decision must have been signed that everything will be known. As to whether or not the council received any files asking for clemency, he said, "I have not received any request for the granting of clemency this year; perhaps the files are still in process".
From every indication, deliberations were marked by solemnity and seriousness as described by some of the lawyers who appeared before the council to defend their clients. "The atmosphere was good and the President had a mastery of the files under examination", Youmbi Nguena Isodore, Barrister in Yaounde told reporters.

All the lawyers were convinced of the facts they had concerning their clients. The Higher Judicial Council is made up of
President Paul Biya
as
President
,
Laurent Esso
, Minister of Justice and Keeper of the Seals as
vice President
,
Jean Fouman Akame
as
Secretary
and as
members
:
Barnabe Eloundou, Pierre Laoussou, Albert Ekono Nna, Marc Ateba Ombala, Isaac Manga Moukouri, Brigitte Mebande epse Abdoul Bagui
and
Fofung Justine Nabum epse Wacka
.
Disclaimer: The contents of this website are for general information purposes only. They do not constitute our legal or professional advice. Readers are advised not to act on the basis of the information contained herein alone. Every situation depends on its own facts and circumstances. We accept no responsibility for any loss or damage of whatsoever nature which may arise from reliance on any of the information published herein without consulting a professional legal practitioner.