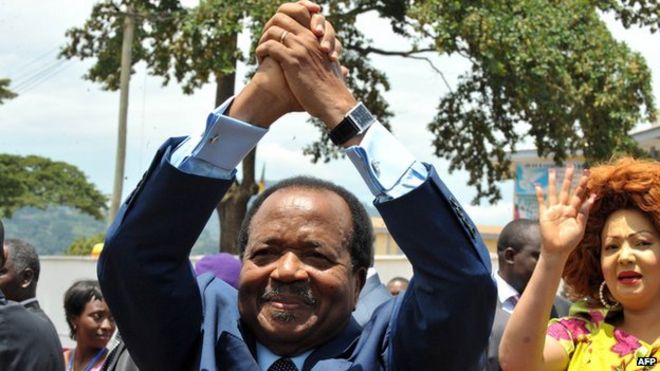 President Biya And Wife Chantal Donates 73.3 Millions F CFA To Bamenda Food Market Fire Victims
Call it cajolery or whatever, but President Biya is not letting any opportunity pass by, without him managing to mend the bridge between him and the aggrieved anglophone people.
He is more present in their predicaments now than before, and like a '

Prodigal Father

' he is seen in the afflictions of his children in the North West and South Regions, trying to tell them '

kids daddy is sorry

', by spraying them with numerous significant gifts, which though many may see it as an adulation, but which we believe it are sincere gestures from a repentant heart.
More than 130 people lost their shops in that overnight ghost flame, and the Presidential couple has come to their rescue, with a pot of gold containing 73 300 000F CFA (Seventy Three Million Three Hundred Thousand Francs), distributed to 109 victims.
Covering this Presidential generosity, 'Le Messager' newspaper on kiosk this yesterday Monday 8th May 2017 reports that more than 15 victims were not fortunate to benefit from this Presidential largesse, because when the censor team was gathering individual information, they were either absent or were skeptical to give their personal details for fear of ghost visits, as consequently are gnashing their tooth in regrets behind closed doors in their homes.
According to the paper, the beneficiaries received in-between

100 000 F CFA

to

3 900 000 F CFA

, depending on the size of your business as evaluated by the censor team.
The envelops were handed to the victims on Friday May

5 2017, by the Administrative authorities of the North West representing the Presidential couple.
This Presidential magnanimity was saluted with enthusiasm by the victims, who thanked the Biya's family and say even though what they received cannot compensate their entire loses, it will go a long way in helping them survive in smaller ventures, that will enable them continue to take care of their family engagements.
The chief celebrant, Governor of the North West Region Adolphe Lele L'Afrique assured the people of Bamenda that the government is doing every thing humanly possible for stability to return in the Region and that an alleged suspect of the said fire incident has been apprehended, and will be facing the law accordingly.
.
Disclaimer: The contents of this website are for general information purposes only. They do not constitute our legal or professional advice. Readers are advised not to act on the basis of the information contained herein alone. Every situation depends on its own facts and circumstances. We accept no responsibility for any loss or damage of whatsoever nature which may arise from reliance on any of the information published herein without consulting a professional legal practitioner.