Cameroon's Head of State for 34 years on Monday May 8th 2017, sent a congratulatory message to the new 39 years old French President elect Emmanuel Macron.
This is the 7th(seventh) time Mr. Biya is sending congratulatory messages to different French Presidents, since his ascension at the Supreme Majesty of Cameroon.
Commenting on President Biya's congratulating many French Presidents, while France has been congratulating just one President in Cameroon for 34 years, 'L'Economie' newspaper details that before his SEVENTH congratulatory message to Emmanuel Macro, President Biya had previously sent the same letters to the

François

Mitterand (21st may 1981

- 17th May 199

5), Jacques Chirac (17th may 1995 - 16th May 2007), Nicholas Sarkozy (
16th
may 2007
-1
5th
May 2012) and
François Hollande(
15th May 2012
–
14th May 2017).
Paul Biya became President of Cameroon when Emmanuel Macron was just
5
years
(five)
old, and now that Macron has grown of age and become the youngest President in the world, President Biya is assuring him that Cameroon is ready and available to continue the long existing friendship that both countries have judiciously nurtured, maintained and enjoyed for decades, and that Cameroon will cooperate with France deeply to explore all new horizons that will open up during Macron's reign
.
An except of the President of the message as translated by us
"Following your brilliant election to the Presidency of the Republic of France, I have the great pleasure on behalf of the
myself and people of Cameroon, to
expr

ess

my deep

and

warm congratulations

.
I also wish you success in the accomplishment of your great mission.
For many decades now, France and Cameroon have maintained and enjoyed a close and trusted relationship in many areas . Bonded by history and a longtime friendship which has never failed, this relationship can accomplish many new things.
I want to assure you of my availability to work with you to maintain this friendship between our two countries and to let you know that we are prepared to cooperate with you in any new openings that this friendship will bring.
Yours truly
President Paul Biya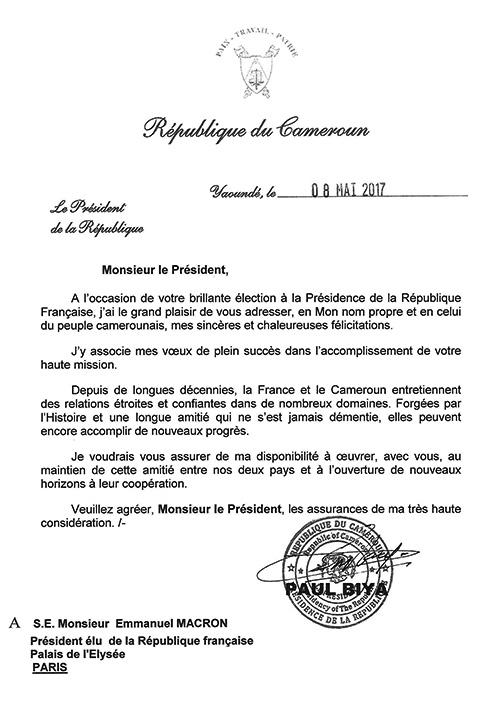 Disclaimer: The contents of this website are for general information purposes only. They do not constitute our legal or professional advice. Readers are advised not to act on the basis of the information contained herein alone. Every situation depends on its own facts and circumstances. We accept no responsibility for any loss or damage of whatsoever nature which may arise from reliance on any of the information published herein without consulting a professional legal practitioner.