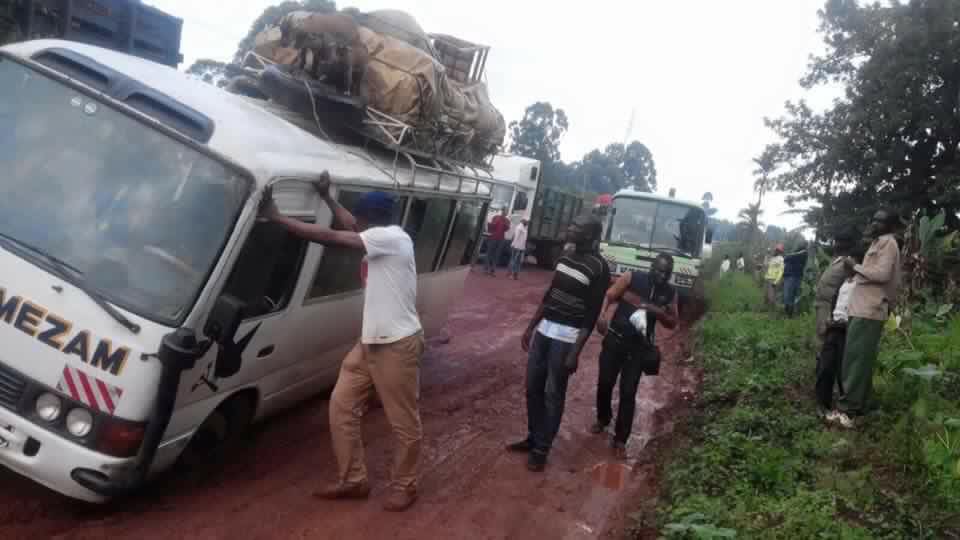 The nightmare for travelers and transporters plying
Babadjou
-
Bamenda
road
stretch
will soon be over, as government, thanks to the World Bank, makes a giant move to provide a long las
ting situation.
This road that has been an administrative defect for long, and which became a dead trap for travelers and transporters, will from today Tuesday May 16, 2017, begin to experience a new makeover, after its launching in Santa by the Minister of Public works Emmanuel Nganou Djoumessi, accompanied by his Secretary General, Louis Max AYINA.


This 33 km long road project from Babadjou to Bamenda is expected to bring relief to passengers and transporters, who spend two hours to cover such a short distance due to the dilapidated nature of the road.

This project evaluated 60 700 000 000 F CFA(Sixty Billion, Seven Hundred Million Francs) at will also cover the construction of a 5 km roundabout track of the Bamenda entrance cliff, and the 12 km urban section in the city of Bamenda.
Funded by the World Bank, the 52 km project will also see the construction of facilities such a 'weighing station', 'two rest areas', a 'toll station', 'markets', 'several multiply portable water systems' as well as the tarring of '50 km' of secondary roads to open up farming areas.
Minister Emmanuel Nganou Djoumessi will also visit work progress on construction sites
of the second entrance into Bamenda, 20km, as well as the Bamenda-Babessi and Ndop-Kumbo sections of the ring road, 60.5km.
The completion of the Babadjou Bamenda road, will be a major achievement for the government, in favour of the aggrieved anglophone people, who are revendicating among other things good roads.
Disclaimer: The contents of this website are for general information purposes only. They do not constitute our legal or professional advice. Readers are advised not to act on the basis of the information contained herein alone. Every situation depends on its own facts and circumstances. We accept no responsibility for any loss or damage of whatsoever nature which may arise from reliance on any of the information published herein without consulting a professional legal practitioner.