President
Biya's three days working visit in Italy ends today Wednesday March 22 2017, but looks like he has decided to extend his stay, by meeting the His Holiness Pope Francis in Rome.
It is worth noting that Mr. Biya is a former Seminarian, who was treading the path to Priesthood, but for some reasons somewhere along the line, things change, and he diverted his course to politics. Some say his calm nature is one of the attributes he acquired while in the Seminary.
This is not the first time he will be meeting with the Sovereign Pontiff, but what we know, is that the agenda of tomorrow's close door, will be different from any other.
African Presidents have been streaming in and out of Vatican, with the latest being Rwandan's Paul Kagame, who was granted as Papal's audience last Tuesday.
We hope Mr. Biya's meeting with St. Peter's most recent Successor, will be a ray of hope for the marginalized anglophone community in his homeland Cameroon
.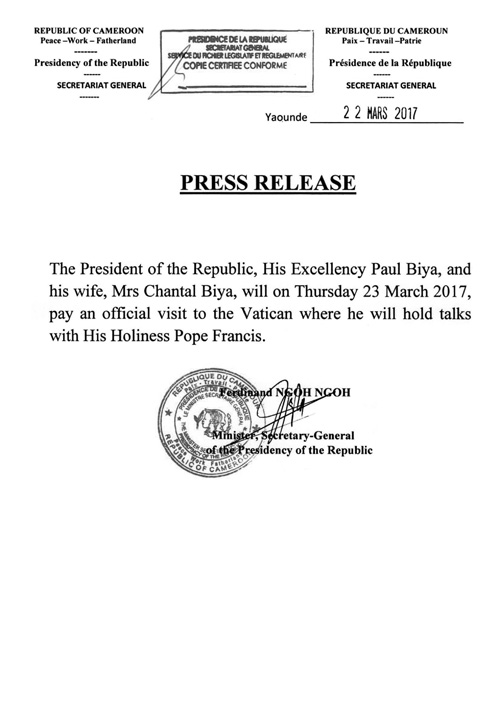 Disclaimer: The contents of this website are for general information purposes only. They do not constitute our legal or professional advice. Readers are advised not to act on the basis of the information contained herein alone. Every situation depends on its own facts and circumstances. We accept no responsibility for any loss or damage of whatsoever nature which may arise from reliance on any of the information published herein without consulting a professional legal practitioner.