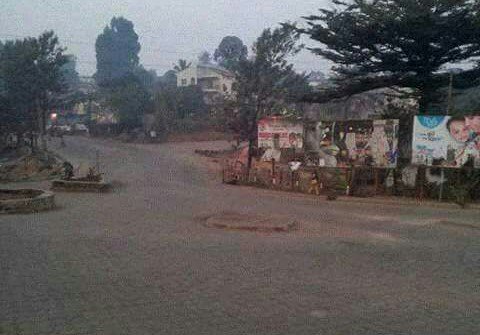 The voices and anger of the people in the Anglophone Regions of Cameroon are resounding loud and far, as they enter day two in Season Three of their Civil Disobedience to the oppressive Cameroun Government.
The streets and roads remain deserted, with small groups of frustrated, tired and hungry looking military men, grumbling, because they have not had the opportunity to pounce on people as usual, as the population remain indoors, without going out for provocative violence.
Not even the continuous arrest of leaders of the community nor of youth has succeeded in instilling fear in the determined community, who despite government's manipulations to force open school doors, have resisted every attempt of bribery and torture.
School doors remain close, businesses are grounded and internet black out by government in the North West and South West Regions is making the people more rebellious to heed to government's numerous calls peace.
Moreover, the scary and intimidating presence of the military with weapons, keeping guards in school yards, to watch over students and teachers should they decide to go to school is not helping matters, as no one want to study under a militarized environment.
Meanwhile the government is calling for another dialogue, but truth is, "
who do they want to sit on the dialogue table with when they have arrested all our representatives?
"
Disclaimer: The contents of this website are for general information purposes only. They do not constitute our legal or professional advice. Readers are advised not to act on the basis of the information contained herein alone. Every situation depends on its own facts and circumstances. We accept no responsibility for any loss or damage of whatsoever nature which may arise from reliance on any of the information published herein without consulting a professional legal practitioner.