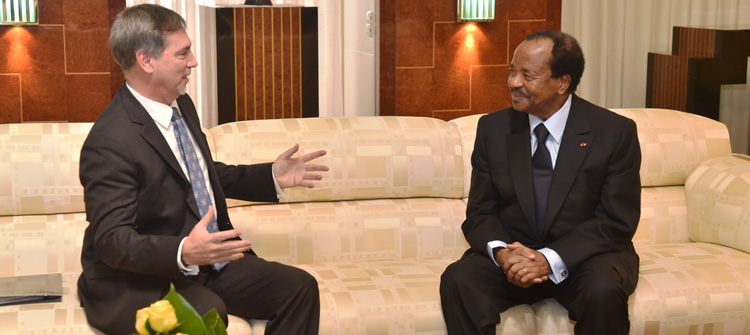 President Biya and his August guest in December at the Unity Palace
The U.S. Ambassador to Cameroon, H.E.Michael Stephen HOZA, has announced that Cameroon-U.S. relations will witne
ss a significant growth in Mr. Donald Trump's administration.
He made this revelation on Friday 02 December 2016 at the Unity Palace after an audience with President Paul BIYA.
Ambassador HOZA said his meeting with the Head of State was aimed at reassuring Cameroonians that the U.S. will continue its trajectory with the next administration come 20 January 2017.
Thus, efforts will be made to support Cameroon in; the fight against the Boko Haram terrorist group, peace and stability in the Central African Republic, and the promotion of maritime safety and security in the Gulf of Guinea.
The U.S. diplomat equally expatiated on a statement issued by the U.S. State Department on the strike actions led by Anglophone lawyers and teachers in Cameroon. He said the issue was raised during the audience and the Head of State shared the same viewpoint like him. Hence, he explained to journalists why Cameroonians need to preserve their great strength of unity in diversity, based on the principles of tolerance and dialogue.
Disclaimer: The contents of this website are for general information purposes only. They do not constitute our legal or professional advice. Readers are advised not to act on the basis of the information contained herein alone. Every situation depends on its own facts and circumstances. We accept no responsibility for any loss or damage of whatsoever nature which may arise from reliance on any of the information published herein without consulting a professional legal practitioner.