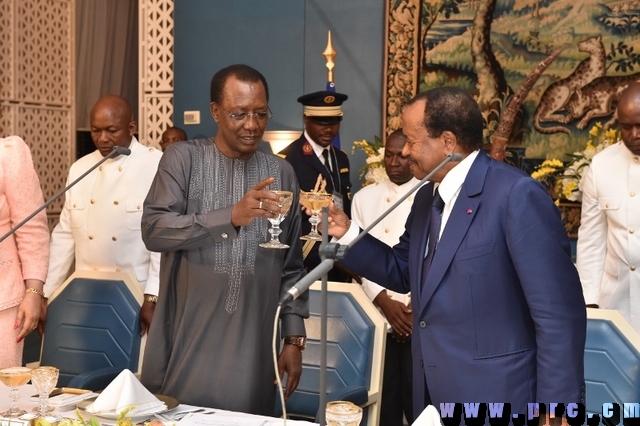 Mr President and Dear Brother
,
My wife and I are happy to once again welcome you to this Palace, symbol of the Cameroonian nation.
Immediately you received news of the train disaster in my country, you extended to us the condolences of the Chadian people. In your capacity as current Chairperson of the African Union, you also extended the condolences of the peoples of Africa.
This tragedy, this disaster, this trial has shocked the people of Cameroon as a whole. So many of our compatriots have lost their lives… So many others have been injured…
In addition to your message of condolence, you have come today in person to bring us the comfort of your friendship. Thank you, Mr President and dear Brother.
It is said that it is in adversity that one recognizes his true friends …
That is why we are profoundly moved by your gesture. Moreover, it is no surprise to us, as we are aware of the depth, density and solidity of the ties binding us. These ties are founded on relations established in the course of History between two neighbouring peoples who have a lot in common.
More recently, thanks to these relations, we were able to stand TOGETHER and push back our common enemy when the security, and even the very existence, of our countries were threatened.
Today, the sympathy and compassion you have come to extend to us are heart-warming.
Beyond that, I am certain they strengthen our common determination to further develop our relations in all areas.
Although this is not the moment to discuss cooperation plans, I am convinced, Mr President and dear Brother, that the natural solidarity that exists between Chad and Cameroon will be strengthened by the trials we will have to face.
It is true condolences do not bring the dead back to life. They, however, nurture, consolidate and enhance trust among those who are still living.
Once again, thank you from the bottom of my heart for coming.
I now invite you to raise your glasses to friendship and solidarity between Chad and Cameroon.
Disclaimer: The contents of this website are for general information purposes only. They do not constitute our legal or professional advice. Readers are advised not to act on the basis of the information contained herein alone. Every situation depends on its own facts and circumstances. We accept no responsibility for any loss or damage of whatsoever nature which may arise from reliance on any of the information published herein without consulting a professional legal practitioner.