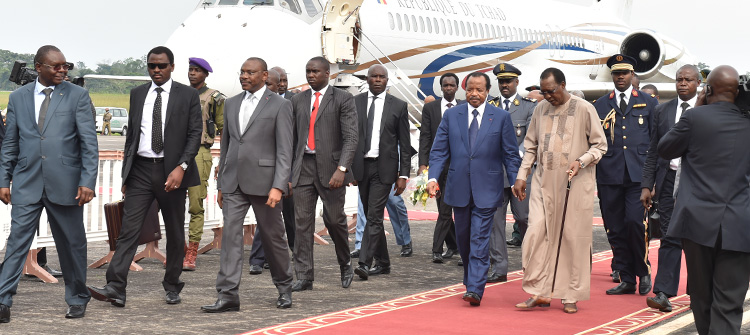 A very warm and friendly welcome from the President of the Republic His Excellency Paul BIYA was reserved for President Idriss DEBY ITNO as he touched down at the Yaounde Nsimalen International airport on Friday 28 October 2016. The Chadian President also received full military honours amid a general atmosphere of cordiality and brotherliness between Cameroon and Chad.
The two leaders had a brief chat in the Presidential Lodge at the airport before taking their motorcade for downtown Yaounde. Stopping briefly at the Hilton Hotel where President Idriss DEBY ITNO will be staying, President Paul BIYA then went ahead to Unity Palace where he and the Chadian President will have a tête-à-tête, the centre piece of their time together.
Cameroon and Chad have many issues of common interest that will most likely be of concern to the two leaders: security issues such as the fight against Boko Haram and the situation in the Central African Republic; economic issues such the integration of the sub-region, transport and telecommunications infrastructure linking the two countries; etc.
The visit will end on Saturday 29 October 2016 when the Chadian President returns to Ndjamena.
Disclaimer: The contents of this website are for general information purposes only. They do not constitute our legal or professional advice. Readers are advised not to act on the basis of the information contained herein alone. Every situation depends on its own facts and circumstances. We accept no responsibility for any loss or damage of whatsoever nature which may arise from reliance on any of the information published herein without consulting a professional legal practitioner.